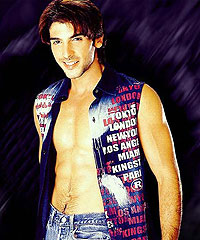 BIOGRAPHY – ZAYED KHAN
Zayed Khan was born on 27th April 1980 in Mumbai (India). His father SANJAY KHAN was a great Actor and his mother name is ZARINE KHAN. He has three sisters in his family named as, SUZANNE KHAN, SIMONE KHAN and FARAH KHAN. In which, SUZZANE KHAN had got married to the handsome and mind-blowing Actor HRITHIK ROSHAN. Not only this, he

have many more other family connections in the Bollywood industry. His Uncle FIROZ KHAN, A well-known film producer and director and FARDEEN KHAN, a talented actor is one of his cousins.
Zayed was a student of

Welham Boys B
oarding School in

Dehradun. After completing his Secondary Examination from Boarding school, Zayed moved to an International School at Kodaikanal that taught and build up a strong desire in him to study abroad. He stood in front for such strange but comprehensive lessons of filmmaking and learnt all aspects, needs and efforts to be put during a film.

Zayed is Intelligent, Mature and a Perfect Actor for young generation age groups. His Mind blowing On-screen presence denotes him the looks of a Greek God. When Zayed was just 8 yrs old, he was taken on the sets of 'Kaala Dhanda Gore Log' to see the actual making of a film.
And That experience had inspired him a lot and he then thought of becoming a Star at his childhood age. And his dreams of becoming a Super-Star which he buried deep in his heart during his childhood days came true with his debut film 'Chura Liya Hai Tumne' with Esha Deol in 2000. Though the film didn't go well at the box-office and failed to win the hearts of the viewer's but Zayed performance was realized and appreciated at a very high level. His second film actually made him a Super – Star and he received critically acclaim from the viewer's. 'Main Hoon Na' directed by FARAH KHAN and supported by SHAH RUKH KHAN was a Blockbuster hit.
This film gave him his own platform in the Bollywood Industry. Later Zayed Khan was tied into knots and got married with his longtime girlfriend Malaika Parekh on 20th November 2005.
His looks and styles made him the 'REAL DUDE' of Bollywood. His next releases in 2005 like 'Shabd' with Sanjay Dutt and Aishwarya Rai and 'Vaada' starring Arjun Rampal and Amisha Patel, both were Averages. But in 2005 it was VENKY'S ROCK 'Dus' casting with Sanjay Dutt, Shilpa Shetty, Suneil Shetty, Raima Sen, Abhishek Bachchan, Esha Deol, Dia Mirza and Pankaj Kapoor which turned on the Zayed fans once again and resulted in order of a Super hit film.
And then his friends and C0-stars represented him with many names like; BRO, BUDDY, DUDE, TECHNO, COOL GUY etc. Then came 'Shaadi No. 1' which was a comedy movie and Zayed did justice with this role also. In 'Fight Club' his fans were crazy and loved his acting very much. His talent and hardwork won many hearts of Bollywood Industry. His fans is desperately waiting for his up-coming movies like Idiot casting Celina Jaitley and Esha Deol with Bisaat. Zayed has signed an International Touring Contact of stage show, 'ROCK STARS'.

If you like this please Link Back to this article...