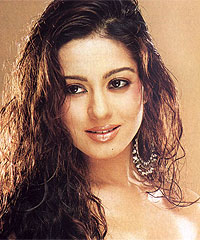 Amrita Rao never knew that she would be a full time actress some day. She comes from a very well to do, Chitrapur Saraswat Brahmin family. Amrita was born on June 17th

1981. The first go to her career came with the Fairever' fairness cream add. Success came thereafter. She was picked up for the close up add which brought her the much - wanted fame. Within months she became the model for the top brands of the country. She modelled for fetched her recognition. Within 18 months, she was the face that promoted Major Brands such as Clean & Clear Face Wash, Pantene Hair Wash, Wrigley Chewing Gum, Domino's Pizza, Anne French, and HMT Watches. Apart from this she also did a number of South Indian commercial ads. With this she did Cadbury's Perk and the Bru coffee ad. This brought in a number of movie offers for her. Amrita stepped in the world of films Raj Kanwar's Ab Ke Baras (2002). She was later seen in Raj kumar Santoshi's The Legend of Bhagat Singh. But all the while she was not much of a recognized face in the film industry. It was Ken Ghosh's 'Ishq Vishq Pyaar Vyaar', which brought her to public notice. Success was not far away from her now. The other movies in line for her were 'Masti', 'Main Hoon Na' and 'Deewar- Let's Bring Our Heroes Home'. Of these once again 'Masti' and 'Main Hoon Na' were hit movies. Amrita was appreciated for her work in both the films. In 'Main Hoon Na' she played a college girl absolute contrast to the one she played in Ishq Vishq Pyaar Vyaar. Farah gave her a new hairstyle. She wore lot of trendy and western stuff. Masti was a comedy film in which she played a housewife who behaves in a peculiar fashion. On a personal note Amrita likes watching Sajid Khan's shows and reading books that have stories in them. She is a very kind hearted person who hates being selfish to people. She wants to be a social worker and help tee mentally challenged kids.
Amrita Rao's Personal Profile:
Birthday:

17th June 1981.
Turn-ons:

Impeccable behaviour with women.
Turn-offs:

Selfish behaviour
Car today:

Mitsubishi Lancer.
Favourite TV show:

I love all Sajid Khan shows.
Philosophy of life:

Life is short and sweet, so make others
Secret Dream:

Go for holiday's in Venice on my own would be fun.
On a blind date I'd go out with:

Brad Pitt. Please Jennifer Aniston, may I?
If i were a burglar I'd steal:

The hearts of my audience.
I'd like to be reborn as:

A social worker. I would like to do something for the

mentally challenged individuals.
Allergies:

Snobbish people.
Favourite drink:

Nariyal Paani.
What I am terrified of:

Doing a bad job in a film and letting my fans down.
Favourite Book:

Chitra Bannerfi's Arranged Marriage.
Favourite Actor:

Shah Rukh Khan, Aamir Khan.
Favourite Actress:

Shabana Azmi.
Favourite Movie:

Rangeela.
Likes:

Watching a good movie

.
AWARDS
:


2004 : IIFA Awards, Best Female Debut; Ishq Vishk
2004 : Stardust Awards, Superstar of Tomorrow - Female; Ishq Vishk
2004 : Sansui Awards, Best Debut - Female; Ishq Vishk
2007 : GR8 Women Awards, Young Achiever
2007 : Anandalok Puroshkar Awards, Most Promising New Talent; Vivah
2007 : Sports World Awards, Jodi of the Year along with Shahid Kapoor, Vivah

FILMOGRAPHY :

Hook Ya Crook
Athidhi (Telugu film)
My Name is Anthony Gonsalvez
Pyare Mohan
Vivah
Vaah! Life Ho To Aisi
Shikhar
Deewaar
Main Hoon Na
Masti
Ishq Vishk
The Legend of Bhagat Singh
Ab Ke Baras

If you like this please Link Back to this article...