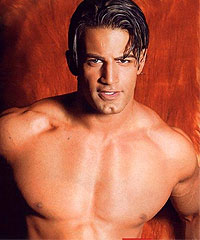 28-years-old Upen Patel is a much sought after model. A Britain-born Indian, Upen Patel born on August 16, 1980. Upen Patel, along with his family, migrated to the UK from Uganda 23 years back where he began getting modelling offers immediately after graduating in Media Studies from West Herts College. Having shot Sun Sahiba Sun, his first remix video, Upen Patel believes he has taken his first step towards Bollywood. All Upen Patel's waiting for now is the right offer, preferably, an action thriller.
Upen Patel has modelled for brands such as Hugo Boss, Paul Smith and Zegna. Upen Patel is a global name on the fashion front. Currently Upen Patel has bagged some big campaigns with names like Wendell Rodricks, Vikram Phadnis and Westside (he teams with Yuvraj Singh).

BIOGRAPHY:
Name : Upen Patel
Date of Birth : 16 August,1980
Nationality : British (seeking Indian citizenship).
Profession : Model
Claim to Fame : First participated in LIFW in 2003 modelling for JJ Valaya. Also did shows for Rohit Bal, Rocky S. Got his break with Valaya when he shot a campaign.
Ethnic Origin : Indian
Ex-girlfriend: Amrita Arora
Favorite food: Chicken , Italian, Relishes creamy pasta in white sauce with some mushrooms
Occupation: Fashion Model / Bollywood actor
Eye Color : Brown
Hair Color : Black
Hair Length : Short
Skin Color : Freckles & Fair
Favourite brands : Armani and Diesel.
Favorite places : London and the Caribbean.
Favorite place In India : Goa, Ooty and Cochin.
Hobbies : Dancing, acting, reading, gym.
Height : 60
Weight : 74 Kgs.
Bust/Chest : 40'
Waist : 32'
Hips : 35'
Languages: Hindi, English

MODELLING ASSIGNMENTS :

Breast Cancer Research Fashion Show held at China Whites exclusively for 'VOGUE' magazine.

by 'GQ' magazine and all the Asian network (B4U, ZEE & ARY).

'DAMINIS' held at Kensington Roof Gardens, covered by 'ASIAN WOMAN & BRIDE' magazine and filmed for ZEE TV.

'BERANAINI' held at THE NEHRU CENTRE exclusively for SONY TELEVISION.

Bangla TV Fashion Special

SELFRIDGES Fashion Show for Bollywood Season.

Catwalk Show for London Fashion Week.

WEMBLEY ARENA Fashion Show for 'RAAZ'.

Catwalk Show for MAYA International held at NEC Birmingham.

NICO D. of London Held at Tokyo Joe's.

Upen Patel's basic essentials in a wardrobe : white shirt, dangerously low waist jeans, a chain, belt, a watch.

Upen Patel is one of the hottest and higest paid male models in India, at present.

One of Britain's top Asian models has been nominated for a prestigious award from MTV.

Londoner Upen Patel is up for the Most Stylish Male category in September 2005, and is hotly tipped to take home the accolade.

The model, who was MTV's face of year in 2003, can't believe how quickly he has been able to enjoy success. "I have only been in India less than two years and already I have secured a home, a car and a decent living, which to me is quite a lot," he said.

But Upen feels he would not have been able to do it without the love and support of his family. He admits that it was his mum who first sent his pictures into catalogues when he was a child and that he did not take it too seriously.

The model, who has been linked to several Bollywood babes including Amrita Arora, says that even though he has not met the right woman yet, he is not concerned and is willing to let her come to him. He said, "In my business I meet a lot of beautiful women and although I think they might be interested they never approach me".

Determined and ambitious, Upen, who has been swamped with film offers from directors like Mahesh Bhatt, says that he is biding his time and hopefully the right script will come his way.

He is perfecting his Hindi skills and being taught dancing by top choreographer Farah Khan's assistant.

His perfect role in films, according to him, is the "Indian James Bond, 007 Licence to Thrill".

Touted as one of India's best male models, he gives the phrase 'male metrosexual' a new twist in Karen Anand's Cook Na Kaho with Upen Patel, a cookery show with a difference on Star One.

Upen is also the winner of The MTV Style Award for Best Male Model.

Upen is the face for Tommy Hilfiger in India. He is also the brand ambassador for Kamasutra, Boy London and Tuscan Verve. Phew.

Loves working out, and hits the gym four times a week. Works out for an hour and a half and work on only one body part at a time. He follows a high protein diet and totally avoid carbohydrates and starchy food like rice, butter and other fried stuff.

Doesn't have a sweet tooth but when he wants to indulge, he digs into a tub of tooty fruity ice cream or choco-chip cookies.

Loves seafood, chicken and salads.

Angel for Men is his secret weapon, a perfume with a chocolatey fragrance that never fails to work.

To get rid of stress, he believes in reading, playing an instrument, exercising or even sleeping. For him, working out is the best mantra for alleviating stress.

Loves listening to R & B, Hip-Hop and other genres of easy listening music.

FILMOGRAPHY :

Shakalaka Boom Boom (2007)
Namastey London (2007)
36 China Town (2006)

If you like this please Link Back to this article...