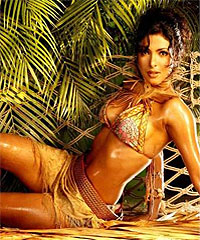 Priyanka Chopra was born on 18th July 1982 in Jamshedpur, Jharkhand, India to the family of Capt. Dr. Ashok Chopra & Dr. Madhu Chopra, an event that transformed the life of every one around her. Priyanka is very attached to her father. While her father is of Punjabi heritage, her mother is from Bihar, a state in north india. She spent part of her childhood in Bareilly, Uttar Pradesh. Her family frequently moved since her father was in the Army. This first born girl child of a large extended family was welcomed like a star. With large twinkling eyes and the most fascinating smile she was a winner.

She imbibed the ethos of the multicultural Indian society. A family favorite she grew up in the warmth & Love offered by her grandparents, aunts & uncles. All of this went into the making of a very warm, loving & confident personality.
She studied at La Martiniere Girls' College in Lucknow, as a young girl and later came to the United States, where she was a student at Newton North High School, in Newton, Massachusetts and John F. Kennedy High School (Cedar Rapids) in Iowa before returning to India to complete high school at Army Public School (Bareilly). she decided to become a software Engineer or a Criminal Psychologist. She began college at Jai Hind College in Mumbai. Suddenly life took change with the Femina Miss India contest, which she won with aplomb.
Priyanka was crowned Miss India World and later Miss World in 2000. In the same year, Lara Dutta and Dia Mirza, both from India, won the Miss Universe and Miss Asia Pacific crowns, in a rare triple.

She started performing at musical shows since three years of age along with her father & uncle , who are both singers of great repute.
Forthcoming : Playing wife to seven hubbies and killing them all off one by one is a role of Priyanka Chopra in Vishal Bharadwaj's movie Saat Khoon Maaf.

AMBITIONS:

She aims for the stars after completing her education. She intends taking up a social cause closest to her heart. She is a movie Buff and would love to join the galaxy if a good offer comes.

ACHIEVEMENTS:

The only Indian in USA to have been selected at state level for the National opus Honour choir.

Extensive charity work back in India & USA

Joined the CAF & CII in their literacy programme and is their ambassadors.

Member of the support group for the thalassaemic children in U.P., India.

Participated in the Adult education awareness program with the NGO's
in the peripheral areas of Bareilly.

Joined the Indian Govt. sponsored Polio Eradication Programme as a volunteer.

She raised funds for the destitutes at Boston USA by participating in their Church programme " Priyanka is a genuine, selfless, down to earth, warm and loving personality A very special person.

HER SELF :

Nickname: Sunshine, Mimi, Yanka
Date of Birth: 18 July 1982
Sign: cancer
Height: 5'8" or 1.73 m
Stats: 35-24-34
Weight: 53 Kgs
City: Jamshedpur, Jharkhand
Country: India
Mother: Dr. Madhu Chopra
Father: Capt. Dr. Ashok Chopra
Siblings: younger brother
Education: La Martiniere Girls Hostel in Lucknow and completed tenth grade (Boston)
Marital status: single
Likes: R&B Music, Fudge and Hot Chocolate, Bulging Biceps
Favorite food: dish Lasagna, makki roti and sarson ka saag
Favorite movies: Pretty Woman, Walk in the Clouds
Favorite outfit: sari
Her hero: Mel Gibson, Kishore Kumar
Her heroine: Sushmita Sen and Indira Gandhi
Other facts: Miss World 2000
Hobbies: singing and writing poetry
Occupation: fashion model / bollywood actress
Languages: hindi, English

FILMOGRAPHY :
2009 - What's Your Rashee
2008 - Chamku
2008 - My Name is Anthony
2007 - Kajri
2007 - London Dreams
2007 - Drona
2007 - Love Story 2050
2007 - Big Brother (film)
2007 - God Tussi Great Ho
2007 - Salaam E Ishq: A Tribute To Love
2006 - Don - The Chase Begins Again
2006 - Aap Ki Khatir
2006 - Krrish
2006 - Alag
2006 - Taxi Number 9211
2006 - 36 China Town
2005 - Bluffmaster
2005 - Barsaat
2005 - Yakeen
2005 - Waqt: The Race Against Time
2005 - Karam
2005 - Blackmail
2004 - Aitraaz
2004 - Mujhse Shaadi Karogi
2004 - Asambhav
2004 - Kismat
2004 - Plan
2003 - Andaaz
2003 - The Hero: Love Story of a Spy
2002 - Thamizhan

AWARD :

2003: Filmfare Awards: Best Debut; Andaaz
2004: Filmfare Awards: Best Villain; Aitraaz
2004: Stardust Awards: Best Supporting Actress; The Hero: Love Story of a Spy
2004: Bengal Film Journalists' Association Awards: Best Actress (Hindi Movies); Aitraaz
2004: Star Screen Awards: Best Villain; Aitraaz
2005: Stardust Awards: Superstar of Tomorrow - Female; Mujhse Shaadi Karogi
2006: Style Diva of 2006
2006: Global Indian Film Awards: Windows Live Search & Movie Talkies Most Searched Actress
2006: POGO Awards: Most Amazing Actress; Krrish
2006: sabse favouite kaun:teez sitara.
2007: Women award:contribution to indian cinema,female.

If you like this please Link Back to this article...