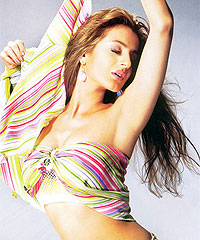 BIOGRAPHY – AMISHA PATEL
Amisha Patel was born on 9th June 1979 in Mumbai. It's very strange if an economics gold medallist is found running behind her acting career or else an intelligent, studious, good-looking personality is been mentioned in the list of the latest Bollywood Style Icon. Amisha is the alone daughter of her father Amit Patel who is a

Gujarati-Maharashtrian

and her Mother Asha Patel who was a Sindhi. She has a younger brother Ashmit Patel, who is compressing his

Acting talent in the Bollywood. Her grandparents, especially her grandfather Barrister Rajni Patel who was the

Congress Pradesh

Committee President of Mumbai, h

elped out Amisha in her childhood days.

Amisha and her brother Ashmit, both the names are derived in the compound combination of their parents. The first three letters as 'AMI' belongs to her father Amit and the last three letters as 'SHA' are of her mother's Asha which total represents 'AMISHA'. Similarly, ASHMIT's also includes the first three letters of 'ASH' is derived from his mother and the last three letters 'MIT' belongs to his father.
Amisha's Strength was recognized in her Determination that made her the Head girl of Cathedral High School when she was just in Standard Fourth (IV). After completing her Higher Secondary Education she moved her-self to graduation and went U.S. She had done her graduation from Tufts University, Boston, and U.S. She then hoped for a job and was offered the Chief – Executive Officer in a finance company. Amisha even started teaching Classical dance and kept herself busy in her free times and during week holidays.

But the nine to fine job couldn't hold her for a long time and finally she had to quit from the finance company. She also started placing her hand in modeling career.
Amisha came back to India and joined Satyadev Dubey's Theatre group and began acting in theaters role.

Her family was initially was not ready with her decision as she came from a very high society family and was also academically brilliant. But After explaining them that there is no one say standing before her destiny she was allowed to continue with her modeling and acting career. During her modeling career She got a Golden opportunity to become an Actress of the Indian Film Industry. She entered in films through her family connections. Producer Rakesh Roshan was Directing his first film 'Kaho Naa……….Pyaar Hai' with his son, Hrithik Roshan as the leading hero of the film. Rakesh Roshan, who had already signed this film with Actress Kareena Kapoor and also started the shooting of the film, but this Association didn't go well. Then Rakesh Roshan then remembered his beautiful school friend's Amit Patel's limped-eyed daughter Amisha whom he met at a Sangeet Celebration Ceremony.

Amisha

had also remarked her of taking her as a heroine for his film. He then offered Amisha Patel as the heroine of his debut film during a joint family dinner and she failed to refuse the proposal.

Amisha Patel stole hearts with her mind-blowing performance and proved all her acting talent in the film, which resulted as the biggest Bollywood blockbuster of the year 2000. This Newcomer pair has shaken the entire Bollywood Industry more than a month and took away the 9 Filmfare Award in the nomination of Best Film of the year. Her next Shocking surprise towards the Bollywood Industry was the Success of Gadar – Ek Prem Katha directed by Anil Sharma.
This movie had made her a Super-Star just over a night. This Movie was finalized at the total budget of Rs.18 crores but the terrific performance of the dashing and good-looking Amisha grossed around a sum of Rs.70 crores and made one of the records at the box-office in grossing the highest movies of all time. With the two Blockbuster Hit 'Kaho Naa Pyaar Hai' and 'Gadar', she made her career rocking and set on the box-office on fire, her performances and work is still appreciated by her fans which made the directors, the producers and distributors to sign her up even standing in a bee line. Amisha

also had worst times from the films in Suno Sasurji with Aftab, Aap Mujhe Achche Lagne Lage with Hrithik, Yeh Hai Jalwa with Salman, Yeh Zindagi Ka Safar that were the great flops at the box office.
A

misha Patel's forthcoming films starting from 'The Rising' with Aamir Khan, Elaan casting John, Lara and Arjun Rampal, Vaada with Zayed and Arjun Rampal and Jeevan Saathi starting Karishma Kapoor and Akshay Kapoor were the level above the Average performance.

Then came Humraaz directed by Abbas Mastan in 2002, which was he Blockbuster for the year casting Amisha Patel, Akshay Khanna and Bobby Deol.
Amisha Patel's Favourite Quote : -
Full Name: Amisha Amit Patel
Place of Birth: Breach Candy Hospital, Bombay
Advertisement Career: Baja Sevashram, Fair & Lovely, Jai Lime, Lux, Cadburys, Fem, etc.
Sex Appeal: My sense of humour and my ability to laugh at myself.
I love: Honesty, integrity and to be admired.
I hate: Double standards and hypocrisy.
Best Food: Home made items, Thai food and Chaats like BhelPuri.
My strength: My family and my overwhelming confidence.
My weakness: My family, desserts and shopping.
My Passion: To suceed in every aspect of life.
Favourite Actor: Aamir Khan, Dilip Kumar & Richard Gere.
Favourite Actress: Meena Kumari, Madhuri Dixit, Julia Roberts .
Favourite Clothes: A pair of Track Pants & a T-shirt, Salwar-Kameez and trousers.
Favorite Car: Ferrari Testarosa.
Favourite Singer: Jagjit Singh & Julio Iglesias.
Favourite Colour: White, baby pink, powder blue.
Favorite Holiday Destination: Paris.
Favorite Designers: Rocky .S. and Gucci, Louis Vuitton, Moschino.
Favorite Movie: Qayamat Se Qayamat tak, Dilwale Dulhania Le Layenge & Umrao Jaan.
Favorite Perfumes: Angel by Thierya & Mugler.
Favorite Book: "A Bridge Across Forever" by Richard Bach.
Amisha Received her First Award in the nominations of Best Female Debut at Zee Cine Awards followed by Sansui Viewers Choice Award for the Best Debut / Face Award for the film 'Kaho Na…….Pyaar Hai' in the year 2000. She also received an special Award from Kalashree in the category of "SENSATIONAL DISCOVERY" for the film 'Kaho Na…….Pyaar Hai' in 2000. In 2001, She received Filmfare Award in the nominations Special Performance Award for the film 'Gadar – Ek Prem Katha'.
FILMOGRAPHY :
Happy Birthday (2007)
Honeymoon Travels Pvt. Ltd. (2007)
Ankahee (2006)
Aap Ki Khatir (2006)
Teesri Aankh (2006)
Narasimhudu [Telugu] (2005)
Tathastu (2005)
Humko Tumse Pyaar Hai (2005)
Mere Jeevan Saathi (2005)
The Rising (2005)
Zameer (2005)
Elaan (2005)
Vaada (2005)
Naani (2004)
Suno Sasurjee (2004)
Parwana (2003)
Puthiya Geethai (2003)
Humraaz (2002)
Yeh Hai Jalwa (2002)
Aap Mujhe Achche Lagne Lage (2002)
Kya Yehi Pyaar Hai (2002)
Kranti (2002)
Yeh Zindagi Ka Safar (2001)
Gadar: Ek Prem Katha (2001)
Badri (2000)
Kaho Naa... Pyaar Hai (2000)

If you like this please Link Back to this article...