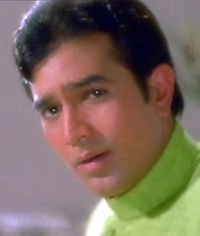 Rajesh Khanna born (Jatin Khanna) on December 29, 1942 in Amritsar. Born Jatin Khanna, he was the adopted son of his parents. After a stint in theatre, he was selected by the United Producers' Talent Contest.

Rajesh Khanna came from a well-to-do family. As did many Indian families at the time feel about the film industry, Khanna's father disapproved Rajesh's taking on a professional acting career. Nonetheless, Rajesh persisted and eventually did very well in the industry.

Rajesh Khanna joined the film industry in 1966 after winning an All India Talent Contest jointly organized by United Producers and Filmfare. He shot to fame with the 1969 film Aradhana which was hugely successful at the box office. From then on he was an extremely popular actor in the 1970s, appearing in many romantic films and melodramas.
No rise or fall of a star has been as been quite as dramatic or spectacular as that of Rajesh Khanna. From 1969 to 1972, the Rajesh Khanna phenomenon swept Bollywood off its feet and the hysteria he generated was unlike anything seen before and after. As hit followed hit and women all over the country swooned over him, Rajesh Khanna admitted feeling 'next to God.' In fact, Rajesh Khanna could perhaps be called Hindi Cinema's first superstar. And yet in one of life's greatest ironies just 5 years later by 1977, his career was in shambles as film after film began failing at the box office. As he fell to the 'angry young man' onslaught of Amitabh Bachchan and found himself totally rejected by filmgoers it is said he went to his terrace in heavy rain asking God not to test his patience...

"Tragedy is not when actors cry. Tragedy is when audiences cry."

Indeed at the end of Anand as Amitabh sits by Khanna's dead body and as the tape recorder plays Khanna's voice, you cannot help but cry along with Amitabh.

Female fans sent him letters written in their own blood From 1969 to 1973 he had 15 consecutive hit films, a journalist Devyani Chaubal dubbed him "phenomenon" when he was at his peak. The success and the media attention was said to have made him arrogant. In the late 1970s and early 1980s, gritty, violent action films became immensely popular; romantic melodramas fell out of fashion. Thereafter, Rajesh Khanna appeared in fewer films, which did less well at the box office.
During the 1970s, Rajesh Khanna married Dimple Kapadia, a Bollywood actress who had just made her film debut in Bobby. At the time of Kapadia's film debut, she was sixteen years old; Khanna was thirty-four. They became the parents of Twinkle Khanna and Rinke Khanna, who would also become Bollywood actresses. Khanna and Kapadia separated in the early 1980s. Their daughter Twinkle is married to current star Akshay Kumar.

In the 1990s with his film career all but over, Rajesh Khanna entered politics and even served a stint as Member of Parliament with the Congress - I Party.

TELEVISION CAREER :

In 2001-2002, Rajesh Khanna played major roles in two television serials: Aapne Parai (B4U & DD Metro) and Ittefaqu (Zee TV).

He performed in a video album based on Tagore's immortal songs (Rabindra Sangeet) free of cost

FILM FARE AWARDS :

Rajesh Khanna has been nominated for fourteen Film fare Best Actor awards .

2005 - Winner Filmfare Lifetime Achievement Award
1990 - Winner Special Award for twenty-five years in the film industry
1975 - Winner Best Actor for Aavishkaar
1973 - Winner Special Award for Guest appearance for Anurag
1972 - Winner Best Actor for Anand
1971 - Winner Best Actor for Sachcha Jhutha
1983 - Nominated Best Actor for Avtaar
1981 - Nominated Best Actor for Dard
1980 - Nominated Best Actor for Thodi Si Bewafai
1979 - Nominated Best Actor for Amar Deep
1974 - Nominated Best Actor for Prem Nagar
1973 - Nominated Best Actor for Daag
1972 - Nominated Best Actor for Amar Prem
1972 - Nominated Best Actor for Dushman
1971 - Nominated Best Actor for Kati Patang
1969 - Nominated Best Actor for Aradhana
1969 - Nominated Best Actor for Ittefaq

OTHER AWARDS :

Maharashtra State's Raj Kapoor Award, April 2003.
Bollywood Awards 2004's Lifetime Achievement Award
Stardust Awards 2005 "Pride of Film Industry" award
2006 Yugantar Gaurav Puraskar award

FILMOGRAPHY :

Jana: Let's fall in love (2006).
Kyaa Dil Ne Kahaa (2002).
Aa Ab Laut Chalen (1999)
Sautela Bhai (1996)
Khudai (1994)
Rupaye Dus Karod (1991)
Swarg (1990)
Paap Ka Ant (1989)
Ghar Ka Chirag (1989)
Main Tera Dushman (1989)
Vijay (1988)
Woh Phir Aayegi (1988)
Goraa (1987)
Avam (1987)
Awara Baap (1987)
Nazrana (1987)
Sitapur Ki Geeta (1987)
Anokha Rishta (1986)
Nasihat (1986)
Adhikar (1986)
Amrit (1986)
Angaarey (1986)
Mohabbat Ki Kasam (1986)
Shatru (1986)
Babu (1985)
Alag Alag (1985)
Hum Dono (1985)
Bewafai (1985)
Nishan (1985)
Aakhir Kyon? (1985)
Durga (1985)
Insaaf Main Karoonga (1985)
Masterji (1985)
Oonche Log (1985)
Zamana (1985)
Naya Kadam (1984)
Asha Jyoti (1984)
Aaj Ka M.L.A. Ram Avtar (1984)
Awaaz (1984)
Dharam Aur Kanoon (1984)
Maqsad (1984)
Paapi Pet Ka Sawaal Hai (1984)
Disco Dancer (1983)
Agar Tum Na Hote (1983)
Souten (1983)
Avtaar (1983)
Dharam Kanta (1982)
Rajput (1982)
Suraag (1982)
Ashanti (1982)
Dil-E-Nadan (1982)
Jaanwar (1982)
Dard (1981)
Dhanwan (1981)
Fifty Fifty (1981)
Kudrat (1981)
Aanchal (1980)
Red Rose (1980)
Thodisi Bewafaii (1980)
Bandish (1980/I)
Phir Wohi Raat (1980)
Prem Bandhan (1979)
Amar Deep (1979)
Janata Havaldar (1979)
Muqabla (1979)
Til Til Dalekha (1979)
Naukri (1978)
Bhola Bhala (1978)
Chakravyuha (1978)
Palkon Ki Chhaon Mein (1977)
Aaina (1977)
Aashiq Hoon Baharon Ka (1977)
Anurodh (1977)
Chalta Purza (1977)
Chhaila Babu (1977)
Karm (1977)
Tyaag (1977)
Mehbooba (1976)
Bandalbaaz (1976)
Maha Chor (1976)
Sawa Lakh Se Ek Ladaun (1976)
Aakraman (1975)
Prem Kahani (1975)
Roti (1974)
Ajanabee (1974)
Aap Ki Kasam (1974)
Humshakal (1974)
Prem Nagar (1974)
Namak Haraam (1973)
Avishkaar (1973)
Raja Rani (1973)
Daag: A Poem of Love (1973)
Joroo Ka Ghulam (1972)
Anuraag (1972)
Apna Desh (1972)
Bawarchi (1972)
Dil Daulat Duniya (1972)
Maalik (1972)
Mere Jeevan Saathi (1972)
Shehzada (1972)
Amar Prem (1971)
Andaz (1971)
Chhoti Bahu (1971)
Dushmun (1971)
Haathi Mere Saathi (1971)
Maryada (1971)
Mehboob Ki Mehndi (1971)
Aan Milo Sajna (1970)
The Train (1970)
Anand (1970)
Kati Patang (1970)
Sachaa Jhutha (1970)
Safar (1970)
Ittefaq (1969)
Aradhana (1969)
Bandhan (1969/I)
Doli (1969)
Do Raaste (1969)
Khamoshi (1969)
Aurat (1967)
Baharon Ke Sapne (1967)
Raaz (1967)
Aakhri Khat (1966)

If you like this please Link Back to this article...