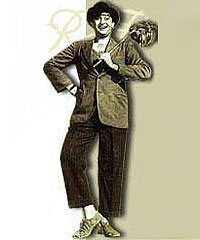 Rightly described as a megastar, producer, director, actor and all-round showman, Raj Kapoor has permanently carved for himself a special niche in commercial Hindi cinema. The son of actor Prithviraj Kapoor, Raj Kapoor started his career as a clapper boy but bagged his first film role at the age of eleven. In 1948, he set up his own studio and made his first feature film, Aag , which would become the first of his many early successes, including Barsaat in 1949 and Shri 420 in 1955.

His basic education was spread over different places as Papaji (Prithviraj) was then on the move. He studied in Peshawar, then did part of his schooling in Calcutta and eventually failed to get a form to appear for the Matric exam in Bombay's Antonia D'souza High School. His nemisis at studies was the cumpolsory second language, Latin. He achieved the unprecedented distinction of winning the All India Elocution Competion for three successive years but failed in Latin and that was the end of his academic career. When Papaji asked him as to why he wished to leave school and not try again he replied, "Sir, If I graduate what happens? If you want to become a lawyer you go to a law college; if you want to be a doctor you go to a medical school; and if you want to be a film-maker, where do you go?" Papaji had no answer. It was ordained.

"A lot of work of every artist, of anyone in any creative profession, is somewhat autobiographical ...... Something of his experience is always attached to it, it remains there and one brings it out in one form or another. That is how it is."

LIKE GURU DUTT, RAJ KAPOOR TOO WAS ANGUISHED BY AN iniquitous, inequitable world order. The tramp's world was also a far-far cry from Utopia, with its class distinctions, its murky moral code and its crass commercialization. Here, in such an awry clime, the status of the common man is almost similar to the street dog who is kicked off from the main highways, whenever he dares to walk on them. One of the most recurrent images in his films is that of the tramp and the mongrel sitting together on the pavement in shared rejection.

Kapoor's ideology was basically a politics of love. "I saw the environment and the social effect it had on people and tried to weave the fabric of the script with the influences of that environment to present it with romanticism and a certain kind of sensitivity of belonging, of humanism and in totality, it worked as love."

The conflict of Raj Kapoor's films always culminated in a scenario where, as he insists, all is well, everybody is happy and God is great. All within the existing social setup. For Kapoor's indictment was never against Nehruvian socialism. This was because the fifties, when Kapoor began his work, was still the age of idealism. Both as a film-maker and a hero, he retained a romantic optimism. Throwing light on his politics of cinema in Raj Kapoor, Ritu Nanda's biographical account of her father, he elucidates: "We began our work in an age of optimism. The republic was new, the rulers were new to leadership." This was an idealism which seemed to work despite the complexities and contradictions of the fifties. Small wonder then that Kapoor's call for reform, like his delineation of love, was intensely romantic too. The protagonists of the 1950s wanted a reformed social order, yes, but this could be achieved quite easily with a little bit of discipline, education and a lot of love.

LEGACY :

Raj Kapoor is appreciated both by film critics and ordinary film fans. Film historians and movie buffs speak of him as the "Charlie Chaplin of Indian cinema," since he often portrayed a tramp-like figure, who, despite adversity, was still cheerful and honest. His fame spread world-wide. He was adored by audiences in large parts of Africa, the Middle East, the former Soviet Union, China, and Southeast Asia; his movies were global commercial successes.

Many of Raj Kapoor's movies had a patriotic theme. His films Aag, Shri 420 and Jis Desh Men Ganga Behti Hai (In the Country Where the Ganges Flows) celebrated the newly independent India, and encouraged film-goers to be patriots. Raj Kapoor commissioned these famous lyrics for the movie Shri 420:

Mera joota hai Japani
Ye pataloon Inglistani
Sar pe lal topi Roosi
Phir bhi dil hai Hindustani

PERSONAL LIFE :

The Kapoor family hailed from Samundri near the town of Lyallpur in present-day Pakistan. Raj Kapoor was born on 14th December 1924, at Peshawar in the North-West Frontier Province of what is now Pakistan. He was named Ranbirraj Kapoor at birth, and was the eldest of the four children of renowned stage and cinema actor Prithviraj Kapoor and his wife Smt. Ramsarni (Rama) Devi nee Mehra. His younger brothers were the actors Shammi Kapoor and Shashi Kapoor. He also had a sister by name Urmila Sial. In 1946, at the age of twenty-two, Raj Kapoor was wed to Krishna Malhotra belonging to Jabalpur in a traditional family-arranged wedding. Krishna was Raj Kapoor's first cousin once removed, being his father's maternal uncle's daughter. Her brothers Premnath as well as Rajindernath were also actors. Raj Kapoor and Krishna's eldest son Randhir Kapoor was born the following year, followed by their elder daughter Ritu the year after, in 1948. The second son Rishi Kapoor was born in 1952, and second daughter Rima in 1956. Their youngest son, Rajiv Kapoor was born in 1962. Randhir Kapoor, Rishi Kapoor and Rajiv Kapoor have all been associated with the Hindi film industry as actors, directors or producers.

Raj Kapoor is also known to have had a longtime romantic relationship with the renowned actress Nargis Dutt during the 1950s. The couple starred in several films together, including Awaara and Shri 420.

Noted film personalities Karisma Kapoor and Kareena Kapoor are the granddaughters of Raj and Krishna Kapoor, being the daughters of their eldest son Randhir Kapoor by his wife Babita.

Raj Kapoor suffered from asthma in his later years; he died of complications related to asthma in 1988 at sixty-three years of age. At the time of his death he was working on the movie Henna (an Indo-Pakistani love story). The film was later completed by his son Randhir Kapoor.

FILMFARE AWARDS :

Raj Kapoor Kumar had been nominated for 16 Filmfare awards in all.

1985 - Winner Best Film for Ram Teri Ganga Maili
1985 - Winner Best Director for Ram Teri Ganga Maili
1982 - Winner Best Director for Prem Rog
1980 - Nominated Best Actor in Supporting Role for Abdullah
1978 - Nominated Best Director for Satyam Shivam Sundaram
1973 - Nominated Best Director for Bobby
1973 - Nominated Best Film for Bobby
1971 - Winner Best Director for Mera Naam Joker
1971 - Nominated Best Film for Mera Naam Joker
1964 - Nominated Best Actor for Sangam
1964 - Winner Best Director for Sangam
1964 - Nominated Best Film for Sangam
1961 - Winner Best Actor for Jis Desh Mein Ganga Behti Hai
1959 - Winner Best Actor for Anari
1958 - Nominated Best Actor for Phir Subhah Hogi
1956 - Nominated Best Actor for Jagte Raho

HONORS AND RECOGNITIONS :

In 1955, Raj Kapoor was conferred with an honoury degree in Tehran. Raj Kapoor had been conferred with a National Award for cinematography for contribution to Indian cinema.

In 1971, Raj Kapoor was awarded the Padma Bhushan, India's third highest civilian award from the Government of India.

In 1987, Raj Kapoor was awarded the Dadasaheb Phalke Award, India's highest award for cinematic

An Raj Kapoor Film Festival was held on his 75th Birth Anniversary at the Cultural Centre of Russia on 17th January, 2000.

On January 8, 2001, Raj Kapoor was honoured with the "Best Director of the Millennium" award by Hero Honda-Stardust

In 2002, Raj Kapoor was named "Showman of the Millennium" by Star Screen Awards

The 55th Cannes International Film Festival, which was held from May 16-26, 2002, comprised a Raj Kapoor Retrospective as a tribute to the showman.

The prestigious Centre George Pompidou in Paris was hosting an important 3-month long festival of popular Indian Cinema from February to April 2004, dedicated to five great Indian film personalities: Raj Kapoor, Guru Dutt, Mehboob Khan, Bimal Roy and V. Shantaram.

FILMOGRAPHY:

Kim
Vakil Babu
Gopichand Jasoos
Abdullah
Naukri
Satyam Shivam Sundaram: Love Sublime
Chandi Sona
Khaan Dost
Dharam Karam
Do Jasoos
Mera Desh Mera Dharam
Kal Aaj Aur Kal
Mera Naam Joker
Sapnon Ka Saudagar
Around the World
Diwana
Teesri Kasam
Dulha Dulhan
Sangam
Dil Hi To Hai
Ek Dil Sau Afsane
Aashiq
Nazrana
Chhalia
Jis Desh Men Ganga Behti Hai
Shriman Satyawadi
Anari
Char Dil Char Raahein
Do Ustad
Kanhaiya
Main Nashe Men Hoon
Parvarish
Phil Subha Hogi
Sharada
Chori Chori
Jagte Raho
Shree 420
Aah
Dhoon
Paapi
Amber
Anhonee
Ashiana
Bewafa
Awaara
Banwra
Bawre Nain
Dastan
Jan Pahchan
Pyaar
Sargam
Andaz
Barsaat
Parivartan
Sunehre Din
Aag
Amar Prem
Gopinath
Neel Kamal
Chittor Vijay
Dil-Ki-Rani (Sweet-Heart)
Jail Yatra
Valmiki
Gauri
Hamari Baat
Inquilab

AS A DIRECTOR :

Ram Teri Ganga Maili (1985)
Prem Rog (1982)
Satyam Shivam Sundaram (1978)
Bobby (1973)
Mera Naam Joker (1970)
Sangam (film) (1964)
Shree 420 (1955)
Awaara (1951)
Barsaat (1949)
Aag (1948)

If you like this please Link Back to this article...