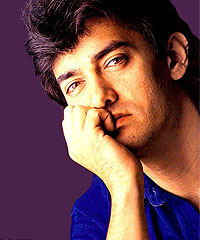 AAMIR KHAN`S – BIOGRAPHY


Aamir Khan was born on 14th March 1965 in Mumbai in a film industry family tree. A Tree in which he was the up-comimg fruit of that tree who will realize the world about his sweet smell and taste. Aamirs father Tahir Hussain is a poducer, Nasir Hussain his uncle was a director.Aamir has also acted in the few films directed by his cousin Mansoor Khan and Tariq Khan of Yadaoan ki Baraat and Hum Kisise Kam Nahi. Faisal Khan, who is not much attracted towards film industry is the brother of Aamir Khan with whom he acted in the film Mela in the year 2000.

Aamir`s Family Life

Aamir was just in college when he made his debut in the film Qayamat Se Qayamat Tak (in which he palyed a college boy role) which was a big hit from him. After such Dashing and super hit film he found himself as a teen idol in every college girls dream. At that time when there was just Aamir in every body tongue, the shocking news of Aamir Khan getting Married to Reena Dutta was Revealed. This news was really buried with the evidence of their Marriage in the year 1988 and breaked hearts of many girls. Reena Dutta was not a professional actress but She had made an Guest Appearance in a song Sequence in Aamirs debut film. She was one of his girlfriends which was kept secret by him and his family. However, Aamir's popularity had made easy for him and even for his marriage to survive with Reena. With the Blessings of god and his loved ones he had two children, one son which was named as Junaid Khan and one daughter which was named as Aaira Khan but this was news was poped out later after a long time of their birth. Reena was not only a wife or a producer but also a good friend of Aamir. She use to help Aamir in his Filmy Career and sometime even in his Acting style.She was briefly involved in Aamirs LAGAAN as a producer. But it was a big surprise for the bollywood industry and his fans when he divorced his wife Reena Dutta in the year 2003. Reena took custody of the children. It was humors that Aamir was linked romanticaly with Kiran Rao who was an assistant director of Ashutosh Gowarikar for the film LAGAAN and Aamir and Kiran then too engaged in wedding ceremony on 28th December 2005.

Aamir Khan with his Dashing looks and hardworking efforts began his carrer as a child actor in the film Yaadoan Ki Baraat in the year 1973 when he was just 8 years old. After that he was noticed in small roles in the film Madhosh in the year 1974 and again in the film Holi in 1984. And when he was at the age of 19 years he signed his first film in a leading role Qayamat Se Qayamat Tak which gained him a stardom fame from it. This fame was Continued further with many more of his films in the year 1990 like Dil, Jo Jeeta Wohi Sikandar in (1992), Hum Hai Rahi Pyaar Ke in (1993) in this film he himself had written the screenplay and acted too. As a result this film was a blockbuster of the year. Then came Rangeela in (1995) and Raja Hindustani in (1996). He followed his trend by giving next super-hit in the foorm of Ghulam which came in 1998. He has also done playback singing for himself in Ghulam for the song "Aati Kya Khandala". Aamir is Known for his efforts for a giving alife to his character. He don't believe just playing characters film after film . He always research in his character goes to its depth and then add the flavour life to its character. This was proved when Aamir had drinked heavily in order to play a drunken scene in film Raja Hindustani (1996), even though he does not drink in real life. Aamir is also known for working on only one film at a time. No other celebrity does the same. This is because he wants to give his best. In 2001 he moved to the production industry producing his first film 'LAGAAN- Once upon a time'. He too played a main role in it. This film became the biggest hit of 2001 and was nominated for many awards including the Oscars, the academy awards for the best foreign language film. The Next Home production of Aamir was 'Mangal Pandey- The Rising' which came in 2005. It was further followed by 'Rang De Basanti' (2006) which was a Blockbuster, the story was based on the struggle between the new generation and the government. Then comes the romantic story directed by Karan Johar`s- FANAA in 2006. Aamir did a great justice to his role by playing the two shaded character as an lover boy and the master mind terrorist and it proved as a block buster.

Aamirs Social Life
Aamir expressed his support for two major peoples struggle in the country , the Narmada Bachao Andolan and the struggle for the justice of the people in Bhopal. He had words with the protestors of Narmada Bachao Andolan and supported Dharna in Delhi and equested the government of India to give justice to the people. He has also been under noticed from Social Environmental Activities because of his product endorsement of companies like Coca-Cola , known for polluting the water sources around its bottling plants in India. In Chennai, Youth for Social Change and Organization comprising of some college student has a appeal him to stop endorsing Coca-Cola but Aamir has refused to terminate his contract with the Coke Company but also promises to take up the issues with the Cola Multinational.

Nickname: A.K
Full name: Aamir Hussain Khan
Date of Birth: 14 March 1965
Sign: Pisces
Height: 5'5" or 1.65 m
Weight: 74 kgs
Religion: muslim
City: Mumbai, Holy Family Hospital, Bandra
Country: India
Mother: Zeenat Hussain
Father: producer Tahir Hussain
Siblings: brothers Faizal and Hyder Ali Khan, sisters Nikhat and Farhad
Children: has son Junaid and a daughter Aaira with Reena Dutta. Son Jaan Harry Hines with ex-girlfriend Jessica Hines (not confirmed)
Marital status: married
Spouse: Kiran Rao
Ex-spouse: Reena Dutta
Likes: old Hindi melodies
Favorite food: Indian and Moghlai dishes
Favorite color: black
Favorite film: Pyaasa
Favorite author: Leo Tolstoy
Favorite perfume: Jovan
His hero: Raghuvir Yadav, Om Puri, Naseer, Dilip Kumar
His heroine: Waheeda Rehman, Geeta Bali, Madhubala, Sridevi
Other facts: first introduced as a child artiste in the 1970's hit Yaadon Ki Baaraat, usually he does only 1 or 2 films a year and makes them superhit
Hobbies: listening old music
Contact information: 11 Bela Vista Apartments
Pali Hill, Bandra , Mumbai 400050
1988 - National Film Awards - Special Jury Award for Qayamat Se Qayamat Tak and Raakh
1988 - Filmfare Awards Winner Best Debut for Qayamat Se Qayamat Tak
1996 - Filmfare Awards Winner Best Actor for Raja Hindustani
1996 - Star Screen Awards Winner Best Actor for Raja Hindustani
2000 - Zee Cine Awards Winner Best Actor for Sarfarosh
2001 - Filmfare Awards Winner Best Actor for Lagaan: Once Upon a Time in India
2002 - National Film Awards - Golden Lotus award for Lagaan: Once Upon a Time in India
2002 - IIFA Awards Winner Best Actor for Lagaan: Once Upon a Time in India
2002 - IIFA Awards Winner Best Movie for Lagaan: Once Upon a Time in India, shared with Ashutosh Gowariker
2002 - Zee Cine Awards Winner Best Actor for Lagaan: Once Upon a Time in India
2006 - Filmfare Awards Winner Best Actor (Critic's Choice) for Rang De Basanti
Honors and Recognitions :

In 2003, Aamir Khan was awarded the Padma Shri, India's fourth highest civilian award from the Government of India.
In August of 2003, Aamir Khan was voted 2nd in the list of "the Greatest Actors" in the film personalities category in the Best of India poll conducted by Zee News. He settles for second place just ahead of showman Raj Kapoor [8]
In a opinion poll by Hindustan Times in 2006, the majority of the online users voted Aamir Khan as the "Real King Khan" ahead of Shah Rukh Khan.
FILMOGRAPHY :

Delhi Belly (2011) as producer
Ghajini (2008)
Taare Zameen Par (2007)
Fanaa (2006)
Rang De Basanti (2006)
The Rising (2005)
Dil Chahta Hai (2001)
Lagaan: Once Upon a Time in India (2001)
Mela (2000)
Mann (1999)
Sarfarosh (1999)
Earth (1998)
Ghulam (1998)
Ishq (1997)
Raja Hindustani (1996)
Rangeela (1995)
Baazi (1995)
Aatank Hi Aatank (1995)
Akele Hum Akele Tum (1995)
Andaz Apna Apna (1994)
Hum Hain Rahi Pyar Ke (1993)
Parampara (1992)
Jo Jeeta Wohi Sikandar (1992)
Daulat Ki Jung (1992)
Isi Ka Naam Zindagi (1992)
Time Machine (1992)
Afsana Pyar Ka (1991)
Dil Hai Ki Manta Nahin (1991)
Dil (1990)
Tum Mere Ho (1990)
Awwal Number (1990)
Deewana Mujh Sa Nahin (1990)
Jawani Zindabad (1990)
Love Love Love (1989)
Raakh (1989)
Qayamat Se Qayamat Tak (1988)
Holi (1984)
Madhosh (1974)
Yaadon Ki Baaraat (1973)

If you like this please Link Back to this article...