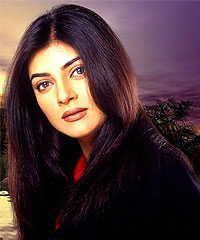 SUSHMITA SEN
–
The Girl with Gorgeous Looks won the Heart's in the Miss Universe Contest.
She was born on November 19, 1975 in Hyderbad, Andhra pradesh (India), but grew up in Delhi. Her father Shubeer Sen is a former Indian Air Force officer; Mother Subhra Sen worked as a fashion artist and jewellery designer.
She has one brother, Rajiv Sen and a sister, Neelam Sen. She belongs to Bengali family as her mother tongue is Bengali. She attended school at Air Force Golden Jubilee Institute and Air Force Silver in Delhi, also studied English and planned a career in journalism, her later schools were in Nagpur and Jorhat.In 1994 at age of eighteen,
Shusmita won the title of Miss India beating out Ashwaraya rai, she also became the India's first Miss Universe ('94) in the Miss Universe Pageant held in the Philippines and even one of the youngest woman to achieve this title. She then stepped her career in Bollywood, working as an actress.Her first movie Ratchakan in Tamil, was a huge flop. Being careful about her career, her subsequent movies like Dastak 1996, where she played the victim of the stalker, that even didn't do well in cinema. But her appearance as Rupali in David Dhawan's movie Biwi No.1 gave her the Filmfare Best Supporting Actress Award in 1999). In 2001, she adopted a girl named, Ranee. So far, her biggest hits, in which she starred as Shah Rukh Khan's love interest, movie Main Hoon Na 2004. Later on, she played a lawyer in Main Aisa Hi Hoon opposite Ajay Devgan. She even starred in a remake of Cactus Flower, called in Maine Pyaar Kyon Kiya 2005 with a wonderful performance, she played the lead opposite Salman Khan and Katrina Kaif and essayed the role of Ingrid Bergman. Her movies include Chingaari 2005 as a prostitute, Gulel 2006, Karma, Confessions and Holi ('06) oppisite Drena DeNiro and Naomi Campbell and her movie Zindagi Rocks 2006. Ram Gopal Varma ki Aag with Amitabh Bachchan, Dulha Mil Gaya 2010 opposite Fardeen Khan.
Award's
Sushmita Sen had received four awards in the similar category of Best Actress in a supporting Role for the film 'Biwi No.1' in the year 1999. This Award was presented to her first in the Filmfare Awards then in the Star Screen Awards, following by Zee Cine Awards and last came the biggest Award ceremony i.e. IIFA Awards in the year of 2000. She again repeated this incident with her acting talent and efforts for the film 'Filhaal' in 2002. She was awarded with three awards in different Awards Ceremony starting from the Filmfare's moving on to Star Screen Awards then finally at Zee Cine Awards in the year 2003. In 2004, she was being nominated in the category of Best Actress for the film 'Samay – When time strikes' (2003) at Stars Screen Awards. Her last achievement till now was for the film 'Main Hoon Na' (2004), where she was nominated once again in the category of Best Actress in a Supporting Role in the Zee Cine Awards for the year 2005.
FILMOGRAPHY:



Do Knot Disturb
Karma, Confessions and Holi
Ram Gopal Varma Ke Sholay
Zindaggi Rocks
Alag
Gulel
Chingari
Maine Pyar Kyun Kiya?
Main Aisa Hi Hoon
Bewafaa
Kisna: The Warrior Poet
It Was Raining That Night
Vaastu Shastra
Main Hoon Na
Paisa Vasool
Samay: When Time Strikes
Pran Jaaye Par Shaan Na Jaaye
Aankhen
Leela
Tumko Na Bhool Paayenge
Filhaal...
Kyo Kii... Main Jhuth Nahin Bolta
Nayak: The Real Hero
Bas Itna Sa Khwaab Hai
Aaghaaz
Fiza
Hindustan Ki Kasam
Biwi No. 1
Mudhalvan
Sirf Tum
Zor
Dastak

If you like this please Link Back to this article...