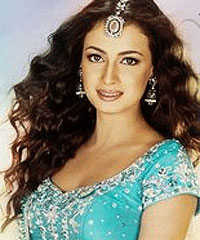 Dia Mirza was born on 9th December,1981 in Hyderabad, India. Her full name is Dia Mirza Handrich but she is popularly known as Diya Mirza or Dia Mirza and she is nicked as Dee. Her father was a German Interior Designer and mother Mrs. Deepa Handrich was Bengali. They were separated when Dia was just at the baby stage around six years old. She lost her father when she was nine and her mother remarried with Mr. Ahmed Mirza and she was renamed as Mrs. Deepa Mirza whose surname Dia took and unfortunately in 2004 her second father Mr. Ahmed Mirza left the world forever.
Living in Khairatabad, Hyderabad, Dia took her education from the Vidyaranya School, which was based on the teachings of Krishnamurti, and then to Nasr School, in Kushnuma. As she was brought up in a Muslim house, she has never consider herself to be a Muslim and always says that she has a great faith in Ganesha. She then participated in Miss India 2000 beauty contest and was stated for placement of

second runner up. After being the part of Miss India beauty contest, she also entered in Miss Asia Pacific 2000 beauty contest.
Stepping her career in acting Dia made her debut with Madhavan in 'Rehnaa Hai Terre Dil Mein'. As this movie was not able to show her magic on box office where as 'Tumsa Nahin Dekha' and 'Deewanapan' was her a couple of flops films. She had also signed with Sonu Nigham in the music video 'Kajara MOHABBAT Wala', album- 'Kajara Nite'. In 2005, she maked her fans happy and joyful when she re-appeared in Vidhu Vinod Chopra's production ' Parineeta' and gained planned up with chopraji and Sanjay Dutt for the most successful running movie ' Lage Raho Munna Bhai' and she has also acted in movies like 'Blackmail', 'Tumko Na Bhool Payenge', Stop', 'Pran Jaaye Par Shaan Na Jaaye', 'Dum', 'Alag', 'Tumsa Nahi Dekha', 'Dus' and 'Fight Club'. And she will be coming soon in films 'Familywala' and 'Naa Naa Karte' this year. With Arjun Rampal, she has acted overall in seven movies such as 'Deewanapan' ('01), 'Tehzeeb' ('03), 'Alag' ('06) with Special Appearance of Arjun, 'Familywala' ('06), 'Dus Kahaniyaan' ('06), 'Honeymoon Travels' ('06) and 'Shootout at Lokhandwala' ('06).
In 2006, unfortunately her car was seized for alleged evasion of custom duties and also her fellow-actor Aamir Khan expressed publicly while supporting the Narmada Bachao Andolan, where a group protesting of building of a dam took place. This had been aroused the ire of Hinduvta activists form BJP, who had led the protest march against the actress. Although her name is spelled out as Dia, but she has credited in most of her movies as Diya. As she says that her name was misspell in her passport, she too, owns a dog, a Labrador retriever named 'Sultan'
Diya Mirza's

Personal Profiles:
Date of Birth:

09th December 1981.
Minus Point:

My impatient nature.
Favorite Perfume:

Baby Doll by Ralph Lauren.
Favorite Food:

Hyderabadi Biryani.
Favourite Holiday Spot:

Hyderabad, it's home for me.
Languages known:

Hindi, Urdu, Bengali and Telugu.
Weakness:

Chocolates and children.
Biggest fear:

Losing myself.
Dream Role:

Aishwarya's role in Hum Dil De Chuke Sanam.
Favourite films:

Forest Gump and Schlinder's List.
Turn on in a man:

Simplicity.
Turn off in a man:

Extravagance.
My sex appeal:

My eyes and smile
FILMOGRAPHY :

Cash
Aankh Micholi
Bits & Pieces
Kayanaat
Bidhaatar Lekha
Familywala
Naa Naa Karte
Alibaug
Dus Kahaniyaan
Shootout at Lokhandwala
Honeymoon Travels Pvt. Ltd.
Phir Hera Pheri
Alag
Lage Raho Munna Bhai
Prateeksha meenakshi jha
Koi Mera Dil Mein Hain
Fight Club
Kabhi Bhi Kahin Bhi
Dus
Parineeta
Naam Gum Jaayega
My Brother Nikhil
Blackmail
Tumsa Nahin Dekha
Kyun...! Ho Gaya Na
Tehzeeb
Pran Jaaye Par Shaan Na Jaaye
Dum
Tumko Na Bhool Paayenge
Deewaanapan
Rehnaa Hai Terre Dil Mein

If you like this please Link Back to this article...