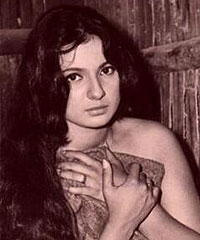 Tanuja was born in Mumbai into a family of four children as Tanuja Samarth to poet Kumarsen Samarth and his wife Shobhna Samarth. Her mother was a famous 1930s and 1940s actress. When she was very young her parents separated. Tanuja entered films as a child actress and continued working until 1973. She met director Shomu Mukherjee on the set of Ek Baar Muskara Do. A whirlwind romance ended in a 1973 marriage. They had two children: Kajol Mukherjee (b. 1975) and Tanisha Mukherjee (b. 1978). They were later divorced.

The younger sister of Nutan and one of the daughters of '40s actress Shobhana Samarth, Tanuja was known for her tomboyish behaviour on the sets, and a rebel image. Unlike most heroines, she refused to play games and chase after roles. If inspite of that, she was successful, only due to her talent. Her films included 'Jeene ki Raah', 'Jeeo aur Jeene Do', 'Do Chor', 'Mome ki Gudiya', 'Mere Jeevan Saathi', 'Humshakal', 'Imitihan' and the most successful of them all, 'Haathi Mere Saathi'.

She was among the rare heroines who smoked but did not hide the ever-burning cigarette in her hand, and never disguised her whiskey in a bottle of Coca Cola, like most heroines of '60s did. Tanu had acquired this boldness from her grandmother who was as open about her relationship with Motilal. This openness did cause her heartbreaks but she finally settled down in marriage with Shomu Mukherjee. The marriage was certainly stormy and when she played the wife of a busy journalist in 'Anubhav' there were comparisons. Tanuja happily shifted to character roles. Her daughter Kajol, the third generation of actress, continues the tradition.

ABOUT HER SELF :

Birth name: Tanuja Samarth
Date of Birth: 23 September 1943
City: Bombay
Country: India
Mother: Shobhna Samarth
Father: Kumarsen Samarth
Siblings: sisters Nutan and Chatura, brother Jaideep
Children: daughtes Kajol and Tanisha
Marital status: married
Spouse: Shomu Mukherjee
Occupation: bollywood actress
Debut Film: Hamari Beti
Languages: hindi, english, french and german

FILMOGRAPHY :

Deewaar (2004)
Khakee (2004)
Rules: Pyaar Ka Superhit Formula (2003)
Bhoot (2003)
Saathiya (2002)
Tum Jiyo Hazaron Saal (2002)
Safari (1999)
Main Solah Baras Ki (1998)
Muqadama (1996)
Aatish (1994)
Vivekananda (1994)
Izzat Ki Roti (1993)
Antim Nyay (1993)
Deedar (1992)
Bekhudi (1992)
Ghazab Tamasha (1992)
Pyar Bhara Dil (1991)
Shandaar (1990)
Paraya Ghar (1989)
Rakhwala (1989)
Gharana (1989)
Meri Zabaan (1989)
Taaqatwar (1989)
Agnee (1988)
Paap Ko Jalaa Kar Raakh Kar Doonga (1988)
Mera Muqaddar (1988)
Itihaas (1987)
Anokha Rishta (1986)
Nasihat (1986)
Adhikar (1986)
Ek Main Aur Ek Tu (1986)
Jaal (1986)
Love 86 (1986)
Maa Beti (1986)
Mohabbat Ki Kasam (1986)
Suhagan (1986)
Lover Boy (1985)
Ghar Dwaar (1985)
Zabardast (1985)
Maati Maange Khoon (1984)
Boxer (1984)
Pet Pyaar Aur Paap (1984)
Sohni Mahiwal (1984)
Yaadgaar (1984)
Lovers (1983)
Ek Jaan Hain Hum (1983)
Masoom (1983)
Nikaah (1982)
Prem Rog (1982)
Adalat O Ekti Meye (1982)
Johnny I Love You (1982)
Kaamchor (1982)
Khud-Daar (1982)
Pyaas (1982)
Ucha Dar Babe Nanak Da (1982)
Yaarana (1981)
Bandish (1980)
Swarg Narak (1978)
Aa Jaa Sanam (1975)
Amir Garib (1974)
Hum Rahi (1974)
Humshakal (1974)
Imtihaan (1974)
Pocketmaar (1974)
Insaaf (1973)
Do Chor (1972)
Ek Bar Mooskura Do (1972)
Mere Jeevan Saathi (1972)
Mom Ki Gudiya (1972)
Anubhav (1971)
Pyar Ki Kahani (1971)
Door Ka Raahi (1971)
Ek Paheli (1971)
Haathi Mere Saathi (1971)
Thi Reeta (1971)
Bachpan (1970)
Pavitra Paapi (1970)
Priya (1970)
Gustakhi Maaf (1969)
Jeene Ki Raah (1969)
Paisa Ya Pyaar (1969)
Teen Bhuboner Porey (1969)
Do Dooni Char (1968)
Izzat (1968)
Juaari (1968)
Sapnon Ka Saudagar (1968)
Jewel Thief (1967)
Antony Firingee (1967)
Nai Roshni (1967)
Wahan Ke Log (1967)
Baharen Phir Bhi Aayengi (1966)
Daadi Maa (1966)
Sannata (1966)
Bhoot Bungla (1965)
Chand Aur Suraj (1965)
Nai Umar Ki Nai Fasal (1965)
Benazir (1964)
Aaj Aur Kal (1963)
Hamari Yaad Aayegi (1961)
Memdidi (1961)
Chhabili (1960)
Amber (1952)
Hamari Beti (1950)

If you like this please Link Back to this article...