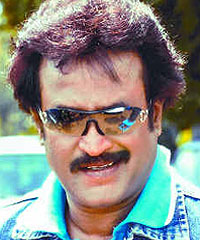 Is he merely a mega star? People unfamiliar with the intricate ways Tamil films, its popularity and its sway over politics would wonder.

T. Balachander, who introduced Rajnikant as a villian, was fascinated with his eyes. But what catapulted Rajnikant to the heights of Tamil cinema is his overt expression of style.

This carpenter-turned-coolie-turned-megastar, Shivaji Rao Gaikwad (his original name) is a Maharastrian who could not even speak Tamil at one time, has seen hunger and the ecstasy of unprecedented success. "There was a time when all I wanted from life was a Vespa scooter, a packet of Wills filter cigarettes and a one-bedroom flat. That, I thought, was the ultimate happiness," he recollects. "And then suddenly, I was showered with name, fame and money. I had everything I had never even dared to desire. I had much more than what I wanted. But it gave me no happiness. It shattered even my illusions. My needs, I suddenly realised, were not as simple as a scooter or a pack of Wills filter cigarettes or a car or a bungalow. The problem was much more severe."

Rajnikant may not be good-looking enough to be called a star, but the lower-classes of Tamil Nadu see themselves in him, and that is what makes him incomparable. That a person of Mani Rathnam's stature made a movie, Dalpathi' with him starring, should indicate his control over the masses. But for the tides in his life, which took him to great fortune, he might have, with some difficulty, become an extra.

Four years after he got his first break in South Indian films, he had a nervous breakdown. At a time when he should have been on top of the world, he was in hospital. "I couldn't come to terms with my success. I took to drinking. I used to work eighteen hours a day and the rest of the time, I only drank and drank. There came a stage when even one bottle was not enough. It did nothing for me. From one bottle, it became one and a half. Even that didn't do the trick. I started taking drugs. I began with mandrax and then went on to charas, ganja and even cigarettes containing zarda. I used to consume at least thirty-five to forty packets of jarda in a day. I was driving myself to the breaking point, but I couldn't stop myself. Nothing interested me enough to pull me out of this rut. Till the nervous breakdown. I broke loose."He was hospitalised for six months and that brought him back to his senses.

Thereafter, he concentrated solely on his career. He was never into acting for the sake of art. It was only the money that lured him. "I have never pretended to be concerned or bothered about aesthetics in film making," he maintains.

But work hard he did. And now he plans to retire from acting and enter into politics. "I would not deny the fact that there are several attempts to induct me into politics. But I have made enough money out of acting. Why should I join politics? If it is to serve the people, I am of the opinion that first, you should serve yourself and your family and friends and only later on should you think of serving others." Some say that even the legendary M.G.R could not have matched Rajnikant's magnetism.

Rajni is one of the few south Indian heroes who successfully crossed over to the North. Andha Kannon , Giraftarr, Chal Baaz , Gangwa etc speak for his success in Bollywood.

He is rare phenomenon in terms of commercial success of films. Even Amitabh Bachchan, the super star of Indian cinema, has given flops. But Rajni's films never flop in box-office. What is the secret of his enviable success? Critics attribute his success to his mysterious ability (whatever may be the role he enacts on the screen) to identify with the common folk.

In 1999, Rajni completed 25 years in cinema. The Government of Indian in recognition of his outstanding contribution conferred on him Padmabhushan the same year.


ABOUT HIM SELF :

Birth name: Shivaji Rao Gaekwad
Date of Birth: December 12, 1949
Height: 5"9'
Weight: 70 Kg
City: Bangalore
Country: India
Mother: Ramabai
Father: Ramoji Rao Gaekwad
Siblings: Sathya Narayana Rao and Nageshwara Rao
Children: two daughters Aishwarya and Sowndarya
Marital status: married
Spouse: Latha
Education: Madras Film institute
Likes: hollywood films, dogs
Favorite food: Chicken and Mutton items
Favorite color: Black
His hero: Lee Kwan Yew, K.Balachandar, Kamal Haasan
His heroine: Rekha
Other facts: he is popular for his flamboyant dialogue delivery and characteristic mannerisms
Hobbies: Yoga and Meditiation
Occupation: bollywood and south indian actor
Debut Film: Katha Sangama
Languages: tamil, hindi, marathi, kannada, malayalam, bengali, English


FILMOGRAPHY :

Shivaji: The Boss (2006)
Chandramukhi (2005)
Baba (2002)
Bulandi (2000)
Padaiyappa (1999)
Krantikari (1997)
Arunachalam (1997)
Badsha (1995)
Aatank Hi Aatank (1995)
Muthu (1995)
Peda Rayudu (1995)
Zameen (1995)
Veera (1994)
Ejamaan (1993)
Insaniyat Ke Devta (1993)
Uzhaippaali (1993)
Valli (1993)
Tyaagi (1992)
Annamalai (1992)
Pandian (1992)
Thalapathi (1991)
Nattukku Oru Nallavan (1991)
Khoon Ka Karz (1991)
Farishtay (1991)
Hum (1991)
Dharma Dorai (1991)
Phool Bane Angaarey (1991)
Shanti Kranti (1991)
Adisaya Piravi (1990)
Mannan (1990)
ChaalBaaz (1989)
Bhrashtachar (1989)
Gair Kanooni (1989)
Kodiparakkudu (1989)
Mappilai (1989)
Raajadhi Raaja (1989)
Siva (1989)
Bloodstone (1988)
Tamacha (1988)
Dharmathin Thalaivan (1988)
Guru Sisyan (1988)
Uttar Dakshin (1987)
Daku Hasina (1987)
Velaikkaaran (1987)
Asli Naqli (1986)
Bhagwan Dada (1986)
Dosti Dushmani (1986)
Maaveran (1986)
Mr. Bharath (1986)
Naan Adimai Illai (1986)
Wafadaar (1985)
Bewafai (1985)
Mahaguru (1985)
Aaj Ka Dada (1985)
Ek Saudagar (1985)
Geraftaar (1985)
Naan Sigappu Manithan (1985)
Padikkathavan (1985)
Sree Raaghavendar (1985)
Unn Kannil Neer Vazhindal (1985)
John Jani Janardhan (1984)
Gangvaa (1984)
Insaaf Kaun Karega (1984)
Meri Adalat (1984)
Anbulla Rajanikant (1984)
Bhooka Sher (1984)
Kai Kodukkam Kai (1984)
Naan Mahaan Alla (1984)
Nallavanukku Nallavan (1984)
Thambikku Entha Ooru (1984)
Zulm Ki Zanjeer (1984)
Jeet Hamaari (1983)
Adutha Varisu (1983)
Andha Kanoon (1983)
Moondru Mugham (1983)
Paayum Puli (1983)
Sivappu Sooriyan (1983)
Thanga Magan (1983)
Agni Sakshi (1982)
Engeyo Ketta Kural (1982)
Pokkiri Raja (1982)
Pudhu Kavithai (1982)
Ranga (1982)
Thanikatu Raja (1982)
Thee (1981)
Black Cobra (1981)
Garjanai (1981)
Kazhagu (1981)
Netri Kann (1981)
Ranuva Veeran (1981)
Thillu Mullu (1981)
Kaali (1980)
Anbukku Naan Adimai (1980)
Billa (1980)
Ellaam Un Kairaasi (1980)
Johnny/Jani (1980)
Murattu Kaalai (1980)
Naan Potta Savaal (1980)
Ram Robert Rahim (1980)
Aarilirindhu Aruvathu Varai (1979)
Alavuddinum Athbutha Vilakkum (1979)
Annai Oru Aalayam (1979)
Dharma Yuddham (1979)
Johnny (1979)
Kuppathu Raja (1979)
Naan Vaazha Vaippen (1979)
Ninaithale Inikkum (1979)
Thai Illamal Naan Illai (1979)
Shankar Saleem Simon (1978)
Aval Appadithaan (1978)
Bhairavi (1978)
Ilamai Oonjal Aadukirathu (1978)
Mullum Malarum (1978)
Priya (1978)
Thappitha Thala (1978)
Aadu Puli Atham (1977)
Avargal (1977)
Bhuvana Oru Kelvikkuri (1977)
Chilakamma Cheppindi (1977)
Gayatri (1977)
Pathinaru Vayathinile (1977)
Anthuleni Katha (1976)
Moondru Mudichu (1976)
Apoorva Raagangal (1975)
Katha Sangama (1975)

If you like this please Link Back to this article...