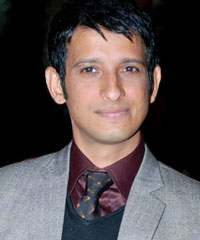 Sharman Joshi is an Indian film and theater actor. He has worked in English, Hindi, Marathi and Gujarati theatre.

Sharman Joshi belongs to a Gujarati family. His father, sister and cousins acted in Gujarati theater. His sister, Mansi Joshi stars in many television serials.
Sharrman Joshi is married to Prerna Chopra. Daughter of actor famous film Actor Prem Chopra. The couple have a daughter, Khyana, born in October 2005, and twin boys, Rehan and Varryan, born in July 2009.

He made his film debut in the 1999 film Godmother.
This was followed by Style, produced by N Chandra with a sequel called Xcuse Me in 2003, and film Shaadi No. 1 2005.
In 2006 he acted in Rang De Basanti with Aamir Khan. Later in the comedy film Golmaal. In 2007 he appeared in the films Life in a Metro and Dhol. Then came Hello with Salman Khan and katrina kaif in special appearance , Film was adaptation of Chetan Bhagat's novel One Night @ the Call Center. Sharman also played the lead male role in the film Sorry Bhai!
He played 3 characters in the film 3 Idiots with Aamir Khan. 3 Idiot is so far one of the most successful film of Sharman Joshi.
Sharman Joshi Filmography
Allah Ke Banday (forthcoming)
Toh Baat Pakki (2010)
3 Idiots (2009)
Sorry Bhai! (2008)
Hello (2008)
Dhol (2007)
Raqeeb (2007)
Life in a ... Metro (2007)
Golmaal (2006)
Rang De Basanti (2006)
Shaadi No. 1 (2005)
Xcuse Me (2003)
Kahan Ho Tum (2003)
Style (2001)
Lajja (2001)
Godmother (1999)

If you like this please Link Back to this article...