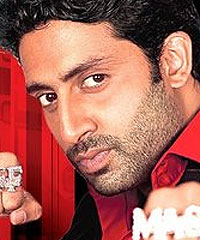 ABHISHEK BACHCHAN

Abhishek Bacchan was born on 5th February 1976. Abhishek has done his Debut and enters into the Bollywood Film Industry in the year 2000. Abhishek is the son of the Bollywood Super star Amitab Bachchan and renowned Actress Jaya Bachchan who is also a MP in Rajya Sabha, Samajwadi Party.
Abhishek has only one Sister name Shweta Bachchan who is married to 'Nikhil Nanda'.
Abhishek has completed his schooling from Bombay Scottish School a Modern School in New Delhi. Abhishek has also gone to Aiglon College in Switzerland. He than went to United States to complete his education from Boston University but unfortunately Abhishek had not finish his Business Degree as he had made a decision to pursue in an Acting Career. His grandfather was a very well known poet of Urdu and Hindi, Mr. Harivansh Rai Bachchan.

The Original last name of the Bachchan's family was Srivastava. Bachchan was a pen name, which called by Abhishekh's grandfather Mr. Harivansh Rai Bachchan. So as his father Mr. Amitabh Bachchan entered into the world of Indian Cinema and Bollywood Industry even he was also under his father's pen name.
Abhishek has enter into the film industry by debuting in J.P. Dutta's film Refugee along with the co-star Kareena Kapoor in the year 2000.
Mani Ratnam's directed film YUVA, was a hit. After the success of YUVA. 2004 he had starred in Yash Chopra's films DHOOM. Then came film BUNTY AUR BABLI with the co-star Rani Mukherjee, In the film SARKAR he worked with his dad Mr. Amitabh Bachchan, In the film DUS he has worked with the Mr.Sanjay Dutt and In the film BLUFFMASTER he has worked with Ritesh Deshmukh, Miss. World Priyanka Chopra and Nana Patekar.

In the film Kabhi Alvida Naa Kehna which was co-starred with Amitabh Bachchan, Shah Rukh Khan, Rani Mukherjee and Pretty Zinta. This film is having a good result in the box-office and doing extremely well.
Abhishek was engaged with the Kapoor's Family girl named 'Karishma Kapoor' in the year 2002 but unfortunately they broke up.
Abhishek Bachchan and Aishwarya Rai announced their engagement on 14 January 2007. And got married on 20 April 2007

Abhishek is currently hosting a brand new game show for Colors titled National Bingo Night which premiered on 23 January 2010
Abhishek Bachchan's Profile :

Full Name: Abhishek Amitabh Bachchan.
Nick Name: Abhi.
Star: Aquarius.
Date Of Birth: 5th February 1976
Height: 6'3" or 1.91 m
Weight: 75 Kgs
Country: India
Mother: Jaya Bachchan
Father: Amitabh Bachchan
Brother-in-law: Nikhil Nanda
Grand father: Lt. Harivanshrai Bachchan
Siblings: sister Shweta Nanda; niece Navya Naveli, nephew Agastye
Wife: Aishwarya Rai

Education: Bombay Scottish School, studied in Switzerland and the US (Boston University) but didn't finish studying business in the United States since he wanted to become an actor
Eyes: Black
Hair: Black
First big hit: Dhoom
Favorite food: anything indian
Favourite Perfume: eternity
Favourite Holiday Spot: home
Dream Role: Agnipath
His Hero: Dad, Manoj Bajpai, Akshaye Khanna, Sanjay Dutt, Jackie Shroff and Govinda
His Heroine: Kareena, Keerthi Reddy and Aishwarya Rai
Something about yourself you would like to change: Maybe my physique
Director you would like to work with: Whoever wants to work with me
Favourite Co-stars: Kareena, Keerthi Reddy and Aishwarya Rai
Languages: hindi, french, english
Address: Pratiksha, 10th Road, J.V.P.D Scheme. Mumbai - 400049

FILMOGRAPHY :

2009 Luck By Chance (Special Appearance)
2008 Mission Istanbul
2007 Sarkar Raj
2007 Laaga Chunari Mein Daag
2007 Jhoom Barabar Jhoom
2007 Drona
2007 Shootout at Lokhandwala
2007 Guru
2006 Dhoom 2
2006 Umrao Jaan
2006 Lage Raho Munna Bhai
2006 Kabhi Alvida Naa Kehna
2006 Alag
2005 Bluffmaster
2005 Neal n' Nikki
2005 Home Delivery: Aapko... Ghar Tak
2005 Ek Ajnabee
2005 Salaam Namaste
2005 Antar Mahal
2005 Dus
2005 Sarkar
2005 Bunty Aur Babli
2004 Hum Tum
2004 Naach
2004 Dhoom
2004 Yuva
2004 Phir Milenge
2004 Run
2004 Rakht: What If You Can See the Future
2003 Zameen
2003 LOC Kargil
2003 Kuch Naa Kaho
2003 Mumbai Se Aaya Mera Dost
2003 Main Prem Ki Diwani Hoon
2002 Om Jai Jagadish
2002 Desh
2002 Haan Maine Bhi Pyaar Kiya
2001 Shararat
2001 Bas Itna Sa Khwaab Hai
2000 Tera Jadoo Chal Gaya
2000 Dhai Akshar Prem Ke
2000 Refugee

If you like this please Link Back to this article...