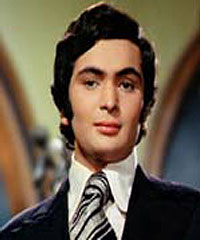 Rishi Kapoor was born on September 4, 1952 in Mumbai.

He is the second son of famous film director and star Raj Kapoor. His brothers are well-known actors: Randhir Kapoor and Rajiv Kapoor. Rishi is the paternal uncle of today's actresses Karisma Kapoor and Kareena Kapoor. Rishi married actress Neetu Singh, with whom he had several hit movies, in 1980. They have two children named Ranbir Kapoor and Ridhima Kapoor.

Rishi had always wanted to act. Family members remember him posing in front of the mirror and trying out various expressions, even as a child. Despite winning the National Award for his performances in 'Mera Naam Joker', Rishi had to struggle to convince his father, Raj Kapoor to cast him as the hero in 'Bobby'. For the film, Rishi went into an agonizing diet to lose weight along with co-star Dimple.

And with his subsequent films like 'Raffoo Chakkar', 'Khel Khel Mein' and 'Hum Kisi Se Kum Nahin', Rishi became famous as the eternal lover. However, this was the era of action and Amitabh Bachchan. Even his film, 'Laila Majnu', in 1977, which became a great success, went unrewarded. But with films like 'Sargam' in 1979 and 'Karz' in 1980, Rishi had the nation swinging to his energetic dance numbers.

His marriage to Neetu Singh was seen as the reason for his fans suddenly deserting him. Despite hits like 'Prem Rog' in 1982, Rishi Kapoor found the spotlight shifting away from him.

However, with films like 'Nagina', Rishi bounced back. 'Chandni' in 1989, a Yash Chopra hit, saw him back in the reckoning. His romantic success continued into the '90s with 'Henna' and 'Bol Radha Bol'. Considered to be the indusrty's oldest romantic, the audience still don't want to see Rishi in any other light.

ABOUT HIM SELF :

Nickname: Chintu
Date of Birth: 4 September 1952
Height: 5' 7"
City: Mumbai
Country: India
Father: Raj Kapoor
Siblings: Brothers - Randhir Kapoor and Rajiv Kapoor
Children: Daughter Ridhima and son Ranbir
Marital status: Married
Spouse: Neetu Singh
Occupation: Bollywood actor

FILMOGRAPHY :

Namaste London (2007)
Don't Stop Dreaming (2006)
Love Ke Chakkar Mein (2006)
Fanaa (2006)
Sambar Salsa (2006)
Pyaar Mein Twist (2005)
Hum Tum (2004)
Tehzeeb (2003)
Love at Times Square (2003)
Kucch To Hai (2003)
Yeh Hai Jalwa (2002)
Kuch Khatti Kuch Meethi (2001)
Raju Chacha (2000)
Karobaar: The Business of Love (2000)
Jai Hind (1999)
Kaun Sachcha Kaun Jhootha (1997)
Daraar (1996)
PremGranth (1996)
Yaraana (1995)
Hum Dono (1995)
Saajan Ki Baahon Mein (1995)
Ghar Ki Izzat (1994)
Prem Yog (1994)
Pehla Pehla Pyaar (1994)
Saajan Ka Ghar (1994)
Eena Meena Deeka (1994)
Mohabbat Ki Arzoo (1994)
Izzat Ki Roti (1993)
Dhartiputra (1993)
Damini - Lightning (1993)
Anmol (1993)
Gurudev (1993)
Sahibaan (1993)
Shreemaan Aashique (1993)
Bol Radha Bol (1992)
Deewana (1992)
Honeymoon (1992)
Inteha Pyar Ki (1992)
Kasak (1992)
Banjaran (1991)
Ranbhoomi (1991)
Henna (1991)
Ajooba (1991)
Ghar Parivar (1991)
Amiri Garibi (1990)
Azaad Desh Ke Gulam (1990)
Sher Dil (1990)
Shesh Naag (1990)
Khoj (1989)
Paraya Ghar (1989)
Bade Ghar Ki Beti (1989)
Chandni (1989)
Gharana (1989)
Hathyar (1989)
Naqab (1989)
Ghar Ghar Ki Kahani (1988)
Hamara Khandaan (1988)
Janam Janam (1988)
Vijay (1988)
Vozvrashcheniye Bagdadskogo vora (1988)
Sindoor (1987)
Hawalaat (1987)
Pyaar Ke Kabil (1987)
Khudgarz (1987)
Ek Chadar Maili Si (1986)
Pahunchey Huwe Log (1986)
Dosti Dushmani (1986)
Nagina (1986)
Naseeb Apna Apna (1986)
Sitamgar (1985)
Rahi Badal Gaye (1985)
Tawaif (1985)
Saagar (1985)
Zamana (1985)
Yeh Ishq Nahin Aasan (1984)
Aan Aur Shaan (1984)
Duniya (1984)
Coolie (1983)
Bade Dil Wala (1983)
Prem Rog (1982)
Deedar-E-Yaar (1982)
Yeh Vaada Raha (1982)
Zamaane Ko Dikhana Hai (1981)
Biwi-O-Biwi: The Fun-Film (1981)
Naseeb (1981)
Katilon Ke Kaatil (1981)
Karz (1980)
Dhan Daulat (1980)
Do Premee (1980)
Aap Ke Deewane (1980)
Duniya Meri Jeb Mein (1979)
Jhoota Kahin Ka (1979)
Salaam Memsaab (1979)
Sargam (1979)
Anjane Mein (1978)
Badalte Rishte (1978)
Naya Daur (1978)
Pati Patni Aur Woh (1978)
Phool Khile Hain Gulshan Gulshan (1978)
Amar Akbar Anthony (1977)
Chala Murari Hero Banne (1977)
Doosra Aadmi (1977)
Hum Kisi Se Kum Nahin (1977)
Kabhi Kabhie - Love Is Life (1976)
Barood (1976)
Ginny Aur Johny (1976)
Laila Majnu (1976)
Rangila Ratan (1976)
Khel Khel Mein (1975)
Rafoo Chakkar (1975)
Raja (1975)
Zinda Dil (1975)
Zehreela Insaan (1974)
Bobby (1973)
Mera Naam Joker (1970)

If you like this please Link Back to this article...