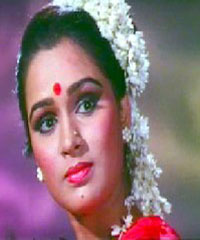 Nickname: Pandi
Country: India
Father: classical singer
Siblings: younger sister Tejaswini , elder sister Shivangi
Children: two children, son Priyank
Marital status: married
Spouse: producer Tutu Sharma
Ex-spouse: Pradeep Sharma
Other facts: Padmini Kolhapure was 'discovered' by Raj Kapoor
Occupation: bollywood actress / runs her own acting school
Debut Film: Zindagi
Languages: hindi, english


Barely in her early 30s, perhaps she's much too young to be featured in a nostalgia column. But then what do you do if she set off on her on-screen journey at the tender age of seven and from a child artiste went on to become a full-fledged heroine by the age of 17, essayed some of the most powerful roles in Hindi cinema — from a young widow to a courageous rape victim -- won loads of critical acclaim as well as public adulation and then chucked it all by the time she was 22, to settle down with the man she loved?

She is Lata Mangeshkar's niece. Padmini Kolhapure, the apple of Raj Kapoor's eye, was a born actress. Her meteoric rise proved beyond a doubt, talent not beauty, is what mattered. Her sudden exit at the height of popularity broke the hearts of her fans and had producers and critics clucking in despair.

The actress par-excellence, takes time off her busy domestic schedule and flashbacks to the early '80s when this simple homely girl reigned supreme...

Hailing from a middle-class Maharashtrian family, her dad, a classical singer, still teaches music, "and insists on travelling by the public transport." Her mom quit her airlines job to be her full-time chaperone and is rather fond of cooking. And as they say, the proof of the pudding is in the eating — Padmini's mom gives us katoris of wafting hot phirni that she's specially made for her grandson. Slurping the dessert, Padmini relates, "We are related to the Mangeshkar family, my dadiji was Pt. Dinanath Mangeshkar's sister. My grand-dad, Krishnarao Kolhapure, was a stage artiste of acclaim. He worked with Pt Dinanath in the same theatre group. In those days, men played the female roles too. The three of us sisters have been named after three famous characters that dadaji had played — Padmini, Shivangi and Tejasvini. Music and acting runs in my blood, so to say," she smiles.

Padmini and her elder sister Shivangi started singing in chorus alongside Didi atya (Lata Mangeshkar) and Asha atya (Asha Bhosle).

The Kolhapure sisters then graduated to solo playback singing. "We'd sung, Aa, aa, ee, ee, masterji ki aa gaye chithi... in Gulzar's Kitaab. Funnily enough, he remembered that during the recently held Screen awards ceremony which Shivangi and I attended together. We were tickled pink by the memory," she laughs.

Baby Padmini was a much-in-demand child artiste in those days. She recalls that when she shot for Dream Girl, they were all Babies and Masters then — Master Alankar, Master Bunty, Baby Chintu, Baby Madhoo and Baby Padmini. The film was partly shot in the US at Disneyland and Los Angeles. "All of us kids, had a real blast during that shoot. At one point of time the film had almost slipped out of hands when the producer refused to let our parents accompany us. But things were resolved amicably when my mom took her airlines pass and flew down with me," she beams happily.

The child-woman then took the nation by storm in BR Chopra's rape saga Insaaf Ka Taraazu. Her innocent face and spontaneous performance struck the right chord. Her bold and no-holds barred performance was appreciated and lauded but it also exposed her to the glare of publicity. The uncalled for media attention embarrassed the fledgling actress no end. "It was a brilliant role and I didn't think twice before grabbing it. I found nothing objectionable in the script. So, after the release of the film I was really hurt by the derogatory comments passed about my role, accusing me of resorting to pornography. It made me so wary of bad publicity that I even turned down RK's Ram Teri Ganga Maili because it had one intimate scene and a kissing shot. I didn't want to invite the ire of the media again," she says. Once bitten, twice shy — what was her loss turned out to be Mandakini's gain.

After a gap of a couple of years, the talented teenager returned to the movies as a full-fledged heroine opposite Rishi Kapoor in Zamane Ko Dikhana Hai. The film flopped but gave a major fillip to her nascent career. "When Nasir Husain signed me up as the heroine, Rajji heard the news and called me up promptly. 'You are a grown-up now,' he observed and asked me to play the lead in Prem Rog — the film was initially being directed by Jainendra Jain. I was a wee bit disappointed because, I was looking forward to working with Rajji again. But I consoled myself with the thought that working for the RK banner was a great honour. As luck would have it, Rajji took over the direction himself, eventually. This time though, he screen-tested me because he wanted to make sure I didn't look too kiddish. I passed the test and we formed a mutual admiration society. As I said earlier, we vibed so well that we didn't need words to communicate. He always called me ladki. 'Tu to Meena Kumari ki maa hai, ladki,' he would compliment me. I could hardly believe him. 'Tu janti nahin tu kya cheez hai', he would rebuke me gently," Padmini recalls fondly.

Padmini completed a hat-trick of award-winning performances with Prem Rog. Aahista Aahista won her a special award, Insaaf Ka Taraazu fetched her the best supporting actress award and Prem Rog won her the coveted best actress trophy

Padmini names Saajan Bin Suhagan and Vidhaata as her most memorable films because those afforded her the opportunity to work with all-time greats like Nutan and Dilip Kumar, Sanjeev Kumar and Shammi Kapoor.

FILMOGRAPHY :

Professor Ki Padosan (1993)
Qurbani Rang Layegi (1991)
Aag Ka Dariya (1990)
Daata (1989)
Dana Paani (1989)
Touhean (1989)
Hum Intezaar Karenge (1989)
Sadak Chhap (1987)
Hawalaat (1987)
Pyaar Ke Kabil (1987)
Dadagiri (1987)
Anubhav (1986)
Aisa Pyaar Kahan (1986)
Jumbish: A Movement - The Movie (1986)
Pyar Kiya Hai Pyar Karenge (1986)
Muddat (1986)
Swarag Se Sunder (1986)
Jhanjaar (1986)
Kirayadar (1986)
Wafadaar (1985)
Pyari Behna (1985)
Bewafai (1985)
Rahi Badal Gaye (1985)
Do Dilon Ki Dastaan (1985)
Insaaf Main Karoonga (1985)
Patthar Dil (1985)
Yeh Ishq Nahin Aasan (1984)
Naya Kadam (1984)
Ek Nai Paheli (1984)
Hum Hain Lajawab (1984)
Pyaar Jhukta Nahin (1984)
Woh 7 Din (1983)
Lovers (1983)
Souten (1983)
Bekaraar (1983)
Mazdoor (1983)
Star (1982)
Teri Maang Sitaron Se Bhar Doon (1982)
Prem Rog (1982)
Dard Ka Rishta (1982)
Khush Naseeb (1982)
Swami Dada (1982)
Vidhaata (1982)
Zamaane Ko Dikhana Hai (1981)
Ahista Ahista (1981)
Insaf Ka Tarazu (1980)
Gehrayee (1980)
Thodisi Bewafaii (1980)
Satyam Shivam Sundaram: Love Sublime (1978)
Saajan Bina Suhagan (1978)
Dream Girl (1977)
Zindagi (1976)

If you like this please Link Back to this article...