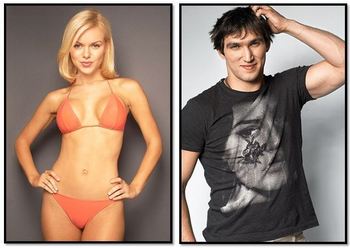 Washington Capitals slumping superstar Alexander Ovechkin is the most eligible bachelor in Russia and definitely needs something to help him get his mojo back. Russian born, but American transplant, model/actress Anya Monzikova could very well be that something.
Why it would work:
Monzikova was born in Russia, but currently lives and works in Los Angeles; a much more manageable distance for the D.C. based Ovechkin. Plus, Ovi is a tough guy who doesn't mind throwing his weight around and so is Anya! She is currently studying Wushu and taking stunt classes, so she can perform her own stunts in action movies.
Why it wouldn't:
Monzikova's acting career is starting to take off; she's recently appeared in
Knight Rider, Iron Man 2
and is shooting a comedy pilot. If Ovi, a well-known mama's boy, is looking for a more traditional lifestyle, things could quickly go south.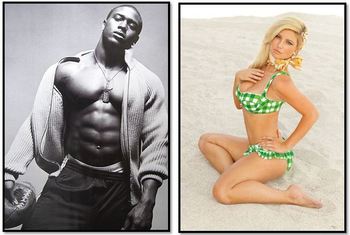 Miami Dolphins halfback Reggie Bush was famously linked with Kim Kardashian and former Miami Dolphins Cheerleader Lilly Robbins was famously featured in
Maxim.
Why it would work:
They are both conveniently living in Miami; proximity always helps. Plus Robbins still loves cheering for the Dolphins and Bush is still a Dolphin that, presumably, loves to be cheered for. Bush is kind of a flashy guy who needs a flashy broad on his arm; a simple Google image search proves that Robbins has flash and then some.
Why it wouldn't:
Kim Kardashian's comically short-lived marriage to Kris Humphries has led to speculation that she might be interesting in reconciling with Bush. Whether or not that's true, the rumors alone could be enough to doom a budding romance.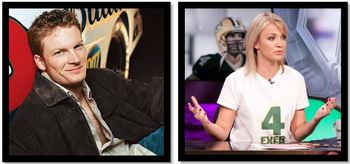 Co-host of ESPN's
SportsNation
Michelle Beadle and NASCAR legend Dale Earnhardt, Jr. are both successful career-oriented southerners in their late 30's who have no interest in marriage.
Why it would work:
They're a couple of ultra-competitive straight-shooters who are known for their sense of humor and overall machismo. Beadle and Earnhardt both need someone who can take a joke and understands that work comes first…this whole thing is written in the stars.
Why it wouldn't:
All that machismo in one relationship could make things combustible…although that could make things more fun for these adrenaline junkies.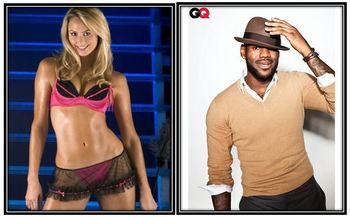 Miami Heat superstar LeBron James might be looking to unload his high school sweet heart Savannah Brison after rumors of her cheating started circulating in June of 2011.
Former WWE Diva Stacy Keibler, and her legs, became a household name after her third place finish on ABC's
Dancing with the Stars,
and her romance with movie star George Clooney recently fizzled.
Why it would work:
Keibler's background in professional wrestling suggests she has a higher than normal tolerance for over-the-top, unlikable personalities…other than that, I've got nothing but a hunch these two kids would hit it off.
Why it wouldn't:
They really don't have much in common besides growing up in a blue-collar towns and tallness.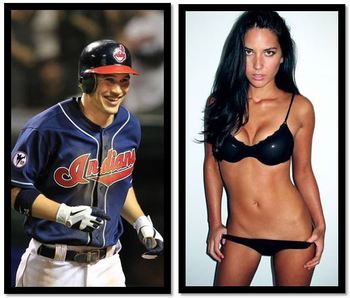 Cleveland Indians outfield Grady Sizemore and actress Olivia Munn have both been featured on the cover of various magazines and can both be found splashed all over the Internet in various states of undress.
Why it would work:
Their mixed-race background could be something they could bond over, in addition to their mutual love of being semi-nude whenever possible.
Why it wouldn't:
Sizemore was last romantically linked with
Playboy
model Brittany Binger; suggesting he might prefer a voluptuous girly-girl rather than the sexy tomboy type.
Famously chaste Denver Broncos quarterback Tim Tebow is allegedly holding out for a wholesome Mrs. Right who will accompany him to church and attend PG-13 movies with him.
Adorable, bordering on angelic, country singer Taylor Swift has been jerked around by Joe Jonas, Taylor Lautner and the truly deplorable John Mayer…she's ready to meet her Tim Tebow.
Why it would work:
Well "TayBow" is just too great a celebrity couple nickname
not
to work! Tim n' Taylor are a wholesome all-American fairytale waiting to happen.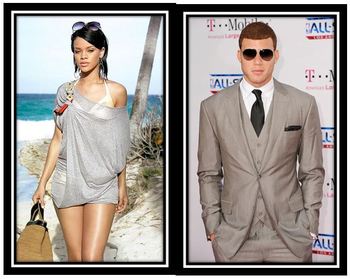 Los Angeles Clippers superstar Blake Griffin was selected as an All-Star and won Rookie of the Year in his first season in the NBA.
Sports Illustrated
recent named him one of the greatest rookies of all time.
Singer Rihanna has sold more than 20 million albums and 60 million singles; making her one of the best selling artists of all time.
Why it would work:
They've both already achieved unimaginable success; not entirely common for 22-year-olds. They're both very active in charities. And Rihanna has said she wants a strong man to wear the pants at home and Griffin seems to fit the bill.

If you like this please Link Back to this article...