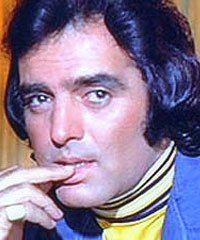 Feroz Khan was born in Bangalore on September 25, 1939 to a Pathan father, Sadiq, and an Iranian mother, Fatima. He has three brothers, Abbas alias Sanjay, Akbar, and Sameer. Both Sanjay and Akbar are actors within their own rights, while Sameer is a film-maker and assists in their Golden Palms Spa located in Bangalore.

Feroz Khan is famous for his styles and dressings. He made his entry on the silver screen in 1960 after his return from a Bangalore-based English medium school. His career initially started as a hero in 'Didi', then he signed up for villain roles, and then made a comeback as a hero again.

Feroz Khan noteworthy movies are Oonche Log, Main Wohi Hoon, Aag, Mela, Upasna, Aprsdh. He became even more popular after the release of Dharmatma, Qurbani, Jaanbaaz, & Dayavan. Feroz Khan got an award for his role in Aadmi Aur Insaan.

Throughout the 1970s and 1980s, he was the top Bollywood star in films and often directed and starred in many of his films. The movie Qurbani was the biggest hit of his career and also launched the singing career of Nazia Hassan. In 1988 he directed and starred in Dayavan which was a remake of a South Indian film Nayagan which starred Kamal Hassan. After he directed and starred in Yalgaar, he took a long break from acting for 11 years and took to producing, directing and even editing a few films. Feroz Khan launched his son Fardeen Khan's career with the 1998 film Prem Aggan which was however a box office failure. Feroz Khan made a comeback to acting with his most recently produced and directed film Janasheen which also starred his son Fardeen Khan and had Feroz make his first film appearance in 11 years. He starred with his son again in Ek Khiladi Ek Haseena which was not however directed by him.

Feroz Khan likes sports-car races and has included this sport in Apradh and then again in Janasheen. He prefers his character name to be either Rajesh or Rakesh. He is a worshipper of Bhagwan Shri Sai Baba and always wears a gold ring on his finger and has a picture close to him. Sai Baba is revered and worshiped by Muslims, Christians, Sikhs, and Hindus in India.

Feroz Khan got married to Sundari in 1965 and they became proud parents of Laila and Fardeen. Despite objections raised by an Islamic Moulvi, Feroz and Sanjay got their children married to non-Islamic families. Laila was married to Rajpal, while Fardeen married Natasha Madhwani, the daughter of Mayur and former Bollywood hottie Mumtaz. Sundari and Feroz have been divorced since 1985.

Feroz has kept away from controversies, though he did get himself banned by the conservative Pakistani government.
Monday Apr 27, 2009 at 1:30am. Feroz Khan at the age of 70, lost his battle with cancer and passed away at his farmhouse in Bangalore. It was his wish to take his last breath in the city where he had born.

Awards :

Filmfare Lifetime Achievement Award in 2000
Filmfare Best Supporting Actor Award in 1970

ABOUT HIM SELF :

Date of Birth: 25 September 1939
Died : 27 April 2009
Height : 5'8"
City: Bangalore
Country: India
Mother: Fatima
Father: Sadiq Ali Khan
Siblings: Sanjay Khan
Children: Son Fardeen Khan
Marital status: Separated
Ex-spouse: Sundari
Likes: Speed and Races
Occupation: Bollywood Actor/Bollywood Director/Producer
Debut Film: Main Shadi Karne Chala
Languages: Hindi, English, Pakhto (Pashto)

FILMOGRAPHY :

Cash (film) (2007)
Kurbani Remake of Qurbani 1980 (2006)
Welcome (2006)
Ek Khiladi Ek Haseena (2005)
Chitappa (2005)
Janasheen (2003)
Yalgaar (1992)
Meet Mere Man Ka (1991)
Dayavan (1988)
Janbaaz (1986)
Kachche Heere (1982)
Silsila (1981)
Khoon Aur Paani (1981)
Qurbani (1980)
Chunaoti (1980)
Darinda (1977)
Jadu Tona (1977)
Nagin (1976)
Kabeela (1976)
Sharafat Chod Di Maine (1976)
Dharmatma (1975)
Aa Jaa Sanam (1975)
Kala Sona (1975)
Rani Aur Lalpari (1975)
International Crook (1974)
Anjaan Raahen (1974)
Bhagat Dhanna Jatt (1974)
Geeta Mera Naam (1974)
Khhotte Sikkay (1974)
Kisan Aur Bhagwan (1974)
Kashmakash (1973)
Apradh (1972)
Upaasna (1971)
Ek Paheli (1971)
Mela (1971)
Safar (1970)
Aadmi Aur Insaan (1969)
Pyaasi Sham (1969)
Aag (1967)
Aurat (1967)
CID 909 (1967)
Raat Aur Din (1967)
Woh Koi Aur Hoga (1967)
Main Wohi Hoon (1966)
Tasveer (1966)
Arzoo (1965)
Ek Sapera Ek Lootera (1965)
Oonche Log (1965)
Teesra Kaun (1965)
Char Dervesh (1964)
Suhagan (1964)
Bahurani (1963)
Tarzan Goes to India (1962)
Main Shadi Karne Chala (1962)
Didi (1960)


If you like this please Link Back to this article...