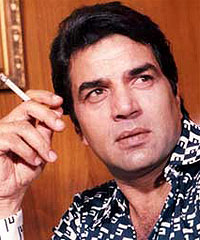 Dharmendra (or Dharaminder (Dharam) Singh Deol) was born on 8 December 1935 in Sahnewal, Punjab. At the peak of his film career he was considered a matinee idol, and was among the 10 most handsome men in the world at that time. Dharmendra remained a top Hindi film star for three decades creating an influential image as a markedly North Indian (Punjabi) macho man devoted to his mother and committed to upholding the honour of his family or the village.

Dharmendra was fascinated with films right from childhood, often travelling miles to frequent the touring cinema. (He remembers going to see Dillagi (1949) starring Suraiya at least 40 times!). He was married at the age of 19 and took up a job with an American Drilling Company boring tubewells. Fortunately for him, he was noticed in a Filmfare spot-the-talent contest and came to Bombay to become an actor. He was signed by Arjun Hingorani for Dil Bhi Tera, Hum Bhi Tere, his first film as hero for Rs 51 as signing amount and a daily breakfast that was to contain strictly of tea, two toasts and butter but no jam! Ironically, after all the struggle he went unrecognized at the premiere of the film and sneaked back home on a train.

However strong, supporting romantic lead roles in women oriented films like Anpadh with Mala Sinha, Bandini and Soorat Aur Seerat , both with Nutan brought Dharmendra to the fore. A liaison with Meena Kumari saw the two of them starring together in a series of films.

Most of Dharmendra's earlier films were soft romantic films, many of which presented a secularized Hindustani version of Bengali literary stereotypes, starting with Bimal Roy's Bandini and continuing with Hrishikesh Mukherjee's 60s socials - Anupama , Manjhli Didi and Satyakam . He mainly played the nice, romantic, handsome hero.

He rose to fame as an Indian actor who appeared in more than 200 Hindi films since the early 1960s. Dharmendra married twice. His first marriage was to Prakash Kaur at the age of 19. He didn't divorce his first wife when he married his second wife, actress Hema Malini. The nickname of his marriage to Hema Malini says that he is Delawar Khan being united to Ayesha Bi. They are said to have fallen in love on the sets of Sholay although they have made many films together before and after Sholay. His two sons by his first wife, Sunny Deol and Bobby Deol, are also successful actors. He has two daughters, starlet Esha Deol and Ahana Deol, by Hema Malini. His nephew Abhay Deol is also an actor.

Dharmendra has gone on record saying he did not believe the Mumbai film industry was a place suitable for girls. Where as Dharmendra was unperturbed by his sons Sunny and Bobby joining the industry, he was vocal about his displeasure regarding his daughter Esha's choice of profession.

Despite showcasing their background as proud Punjabi Jatts, members of the Deol family have publicy claimed that they belong to the Arya Samaj Hindu faith. There is further confusion as to Dharmendra's religion due to his marriage to Hema Malini in 1979, when he allegedly converted to Islam in order to legally marry her.

A village simpleton, Dharmendra always believed that everyone is good. But today, after so many years in the industry and after going through various experiences with people in life, he has no expectations whatsoever. "When you don't have expectations, you don't feel let down," he reasons. "And when you don't feel let down, you don't feel hurt." This principle has helped him cope with the industry's way of functioning.

Unlike some stars, this macho man doesn't believe in interfering as far as work is concerned. "I am a total professional," he says. "I'm also a director's actor. I believe the director knows best. My job is to act and I think I should stick to that."

However, his greatest weakness in life is boozing and despite several efforts, he has not been able to give it up. "It has been the biggest drawback in my life and it is the only thing that I haven't really been able to overcome," he admits. "It has caused me nothing but trouble. I have struggled all my life to get rid of it but I have never really succeeded. I have tried giving it up several times, only to hit the bottle with a vengeance again. If you construct a sentence on my life on drinking, you will find commas, question marks and exclamation marks but never a full stop."

Another major weakness has been his temper. "I have always been a temperamental person. Everything about me is projected in a big way. I am also very demonstrative. I show my affection in a big way. I get angry in a big way. Like drinking, I have tried to get rid of my anger too, but it is too much a part of me now. I have realised anger causes nothing but destruction. In a fit of anger I often act rashly and do things which I regret later." Once he got so angry that he picked up a journalist and bashed him on his head. "Immediately, I was filled with remorse and I regret that incident ever since."

With two successful actor sons, Sunny and Bobby in the industry, Dharmendra today, can choose to call it quits. But a firm believer in Nehru's 'Aaram hai haraam' slogan, he continues to enthrall the audience with his performances. "Work has always been my stimulant. Since childhood, films have been my dream world and today, I'm a major part of that world. I want to die with my make-up on," he says

Currently he is a member of the 14th Lok Sabha of India. He represents the Bikaner constituency of Rajasthan and is a member of the Bharatiya Janata Party (BJP) political party.

FILMOGRAPHY :

Johnny Gaddaar (2007)
Apne (2007)
Metro (2007)
Kis Kis Ki Kismat (2004)
Hum Kaun Hai? (2004)
Kaise Kahoon Ke Pyaar Hai (2003)
Bhai Thakur (2000)
Jallad No. 1 (2000)
Meri Jung Ka Elaan (2000)
Sultaan (2000)
Nyaydaata (1999)
Zulm O Situm (1998)
Pyaar Kiya To Darna Kya (1998)
Dharma Karma (1997)
Gundagardi (1997)
Loha (1997)
Mafia (1996)
Aatank (1996)
Himmatvar (1996)
Return of Jewel Thief (1996)
Smuggler (1996)
Hum Sab Chor Hain (1995)
Taaqat (1995)
Aazmayish (1995)
Maidan-E-Jung (1995)
Policewala Gunda (1995)
Jodh Juaari (1994)
Maha Shaktishaali (1994)
Kshatriya (1993)
Kundan (1993)
Dushman Zamana (1992)
Kal Ki Awaz (1992)
Humlaa (1992)
Khule-Aam (1992)
Tehelka (1992)
Virodhi (1992)
Waqt Ka Badshah (1992)
Zulm Ki Hukumat (1992)
Dushman Devta (1991)
Paap Ki Aandhi (1991)
Farishtay (1991)
Hag Toofan (1991)
Kohraam (1991)
Mast Kalandar (1991)
Trinetra (1991) .... Raja
Humse Na Takrana (1990)
Nakabandi (1990)
Pyaar Ka Karz (1990)
Qurbani Jatt Di (1990)
Vardi (1990)
Veeru Dada (1990)
Shehzaade (1989)
Sikka (1989)
Elaan-E-Jung (1989)
Batwara (1989)
Ilaaka (1989)
Kasam Suhaag Ki (1989)
Hathyar (1989)
Nafrat Ki Aandhi (1989)
Sachai Ki Taqat (1989)
Ganga Tere Desh Mein (1988)
Paap Ko Jalaa Kar Raakh Kar Doonga (1988)
Mahaveera (1988)
Mardon Wali Baat (1988)
Khatron Ke Khiladi (1988)
Saazish (1988)
Sone Pe Suhaaga (1988)
Soorma Bhopali (1988)
Zalzala (1988)
Jaan Hatheli Pe (1987)
Hukumat (1987)
Loha (1987)
Insaniyat Ke Dushman (1987)
Aag Hi Aag (1987)
Dadagiri (1987)
Insaaf Ki Pukar (1987)
Mard Ki Zabaan (1987)
Mera Karam Mera Dharam (1987)
Watan Ke Rakhwale (1987)
Sultanat (1986)
Main Balwan (1986)
Mohabbat Ki Kasam (1986)
Saveray Wali Gaadi (1986)
Sitamgar (1985)
Ghulami (1985)
Karishma Kudrat Kaa (1985)
Jhootha Sach (1984)
Insaaf Kaun Karega (1984)
Baazi (1984)
Dharam Aur Kanoon (1984)
The Gold Medal (1984)
Jagir (1984)
Jeene Nahi Doonga (1984)
Raaj Tilak (1984)
Ranjhan Mera Yaar (1984)
Sunny (1984)
Qayamat (1983)
Andha Kanoon (1983)
Jaani Dost (1983)
Naukar Biwi Ka (1983)
Razia Sultan (Movie) (1983)
Meharbaani (1982)
Rajput (1982)
Badle Ki Aag (1982)
Baghawat (1982)
Do Dishayen (1982)
Ghazab (1982)
Main Intequam Loonga (1982)
Samraat (1982)
Tahalka (1982)
Teesri Aankh (1982)
Aas Paas (1981)
Katilon Ke Kaatil (1981)
Krodhi (1981)
Professor Pyarelal (1981)
Putt Jattan De (1981)
Insaf Ka Tarazu (1980)
Alibaba Aur 40 Chor (1980)
Chunaoti (1980)
The Burning Train (1980)
Ram Balram (1980)
Kartavya (1979)
Dil Ka Heera (1979)
Azaad (1978)
Dillagi (1978)
Phandebaaz (1978)
Shalimar (1978)
Chacha Bhatija (1977)
Chala Murari Hero Banne (1977)
Charandas (1977)
Dharam Veer (1977)
Do Chehere (1977)
Do Sholay (1977)
Dream Girl (1977)
Khel Khiladi Ka (1977)
Kinara (1977)
Mit Jayenge Mitane Wale (1977)
Swami (1977)
Tinku (1977)
Charas (1976)
Giddha (1976)
Maa (1976)
Main Papi Tum Bakhshanhaar (1976)
Santo Banto (1976)
Sholay (1975)
Apne Dushman (1975)
Chaitali (1975)
Chupke Chupke (1975)
Dhoti Lota Aur Chowpatty (1975)
Ek Mahal Ho Sapnon Ka (1975)
Kahte Hain Mujhko Raja (1975)
Pratigya (1975)
Saazish (1975)
Teri Meri Ik Jindri (1975)
International Crook (1974)
Dost (1974)
Do Sher (1974)
Dukh Bhanjan Tera Naam (1974)
Patthar Aur Payal (1974)
Pocketmaar (1974)
Resham Ki Dori (1974)
Jwar Bhata (1973)
Jheel Ke Us Paar (1973)
Loafer (1973)
Black Mail (1973/I)
Jugnu (1973)
Kahani Kismat Ki (1973)
Keemat (1973)
Phagun (1973)
Yaadon Ki Baaraat (1973)
Anokha Milan (1972)
Do Chor (1972)
Lalkaar (1972)
Raja Jani (1972)
Samadhi (1972)
Seeta Aur Geeta (1972)
Mera Gaon Mera Desh (1971)
Naya Zamana (1971)
Rakhwala (1971)
Ishq Par Zor Nahin (1970)
Jeevan Mrityu (1970)
Kab? Kyoon? Aur Kahan? (1970)
Kankan De Ole (1970)
Man Ki Aankhen (1970)
Mera Naam Joker (1970)
Sharafat (1970)
Tum Haseen Main Jawaan (1970)
Aadmi Aur Insaan (1969)
Aya Sawan Jhoom Ke (1969)
Khamoshi (1969)
Pyar Hi Pyar (1969)
Satyakam (1969)
Yakeen (1969)
Aankhen (1968)
Baazi (1968)
Baharon Ki Manzil (1968)
Izzat (1968)
Mere Hamdam Mere Dost (1968)
Shikar (1968)
Chandan Ka Palna (1967)
Dulhan Ek Raat Ki (1967)
Ghar Ka Chirag (1967)
Jab Yaad Kisi Ki Aati Hai (1967)
Majhli Didi (1967)
Aaye Din Bahar Ke (1966)
Anupama (1966)
Baharen Phir Bhi Aayengi (1966)
Devar (1966)
Dil Ne Phir Yaad Kiya (1966)
Mamta (1966)
Mohabbat Zindagi Hai (1966)
Phool Aur Patthar (1966)
Akashdeep (1965)
Chand Aur Suraj (1965)
Kaajal (1965)
Neela Aakash (1965)
Purnima (1965)
Aap Ki Parchhaiyan (1964)
Ayee Milan Ki Bela (1964)
Ganga Ki Lahren (1964)
Haqeeqat (1964)
Main Bhi Ladki Hoon (1964)
Mera Qasoor Kya Hai (1964)
Pooja Ke Phool (1964)
Bandini (1963)
Begaana (1963)
Anpadh (1962)
Shaadi (1962)
Soorat Aur Seerat (1962)
Boy Friend (1961)
Shola Aur Shabnam (1961)
Dil Bhi Tera Hum Bhi Tere (1960)

AWARDS AND RECOGNITIONS :

In 1997, Dharmendra won a Filmfare Lifetime Achievement Award for his contribution to Indian Cinema over many years.

He is a recipient of the prestigious Living Legend Award by the Federation of Indian Chamber of Commerce and Industry (FICCI) in recognition of his outstanding contribution to the Indian entertainment industry.

In 2004, he was honoured for Best Contribution to Indian Cinema.

In 2005, Zee Cine Award for Lifetime Achievement

In 2007, Lifetime Achievement Award at the Pune International Film Festival (PIFF).

If you like this please Link Back to this article...