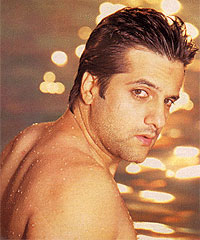 Fardeen Khan was born on 8th March 1974, India. His father Feroz Khan was one of the famed actor of the 70's but now he is known as a popular director.
His mother Sundari Khan and younger Sister Laila Khan now converted into Laila Rajpal.
Fardeen's Uncle Sanjay Khan is also an Actor in the Film Industry. He has a cousins relationship with Zayed Khan and Suzzane Khan. Suzzane who is now married to Great Actor cum Super Star Hrithik Roshan. Fardeen Khan had an engagement with Natasha Madhwani, daughter of Former Actress Mumtaaz and a Business Trycoon Mayur Madhwani on 6th May 2005. Natasha's Mother Mumtaaz and Fardeen's father Feroz Khan had appeared lovers On Screen in Movies many a times.
Before his engagement he dated former Actress now turned into Director, Pooja Bhatt but the relationship didn't carry out for long and broke up while he moved to UMass. He then dated Ruhin Khan but got married to Natasha Madhwani on 14th December 2005. Natasha belongs to well mannered and high class family. She had completed her school studies at a Boarding School in England and after completing her Graduation Studies she planned to settled her life in London. Eventually their marriage was a continuous process of 3 days conducted with various functions and even according to Hindu-Muslim rites and virtues at the Grand Hyatt and JW Mariot hotels in Mumbai. There was a major events where Great Bollywood Stars like Shah Rukh Khan and Preity Zinta attended the Wedding especially flying from New York.
Fardeen after his school life moved to abroad,
resulting distinction Non-Indian Accent. Fardeen then completed his graduation in Business Management from the University of Massachusetts Amherst in

U.S.A. He has western looks and good speaking voice makes difficult for many actors in performing Roles of Typical or Stereotypical character in the Indian Film Industry. Fardeen made his debut with the movie Prem Aggan which was released in 1998, but this film unfortunately resulted a big flop at the box-office. But he bounced back with Ram Gopal Verma's 'Jungle' in the year 2000. Fardeen has some lucky points given by his father related to acting

which he calls as Father's Notoriety. His couple of hits made him a star in his Bollywood film Career.
Though his next few films

like 'Love Ke Liye Kuch bhi Karega' in 2001, 'Pyaar Tune Kya Kiya' in 2001, 'Kitne Door Kitne Pass' in 2002 and 'Om Jai Jagdish' in 2002 went unnoticeable by the Audience and failed to receive any acclaim at the box-office. He once again bounced back in the Hearts of his fans with the film 'Khushi' and 'Bhoot' in 2003. Fardeen has appeared

many a times in Supporting Roles such as in the movie 'Bhoot'. After a flop Film 'Janasheen' in 2003, his performance was then loved and appreciated in the film 'Dev' released out in 2004. Later on

his Negative Character in the film 'Fida' in 2004 was suprising for his fans but it

still remind him as a Star. His first Blockbuster hit film was Boney Kapoor's 'No Entry' in 2005. His up-coming movies are 'Kurbani' which is a remake of 'Old Kurbani of 1980' and 'Honeymoon'.
Fardeen Khan's Personal Profile:
Wife's Name:

Natasha Madhwani.
Favourite TV Show:

Untamed Africa.
Memorable moments:

They won't all fit in this little space.
Philosophy of life:

Life goes on.
Blind date will be with: Madonna.
Secret ambition:

To be a race car driver.
Night activity:

Watching a flick.
Allergies:

Pretentious people.
Favourite drink:

Gin and tonic.
Recurring dream:

Hanging out on my island.
Favourite book:

Notes To Myself by Hugh Prather.
FILMOGRAPHY:-

Kurbani (2007)
Darling (2007)
Subway (2007)
Aankh Micholi (2007)
Hey Baby (2007)
Dulha Mil Gaya (2007)
Just Married (2007)
Aryan - Unbreakable (2006)
Pyare Mohan (2006)
Ek Khiladi Ek Haseena (2005)
Shaadi No.1 (2005)
No Entry (2005)
Fida (2004)
Dev (2004)
Janasheen (2003)
Bhoot (2003)
Khushi (2003)
Om Jai Jagadish (2002)
Kuch Tum Kahon Kuch Hum Kahein (2002)
Kitne Door Kitne Paas (2002)
Hum Ho Gaye Aapke (2001)
Love Ke Liye Kuch Bhi Karega (2001)
Pyaar Tune Kya Kiya (2001)
Jungle (2000)
Prem Aggan (1998)
Subah O Sham (1972)

If you like this please Link Back to this article...