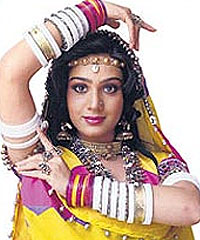 She won the Miss India contest in 1981. She made her film debut in Hero (1983) directed by Subhash Ghai. Her most notable performances were in films Meri Jung (1985), Vijay (1988), Shahenshah (1988), Ghayal (1990) and Damini (1993)

Director Rajkumar Santoshi was said to have been interested in her but she apparently rejected his marriage proposal. She acted in her last film Ghatak in 1997 and has not appeared in any film since. In her 15-year career in the film industry she acted in 63 films.

She also had a promising career as a Bharatnatyam, Kathak, and Odissi teacher. She had learned all four main dance styles of India and performed first her Bharatnatyam Arrangetram at the age of four. Piyal, who had only spent two years with Meenakshi, has finished her Odissi Manch Pravesh and is now learning more in India.

I think Meenakshi Sheshadri was the most underrated actress of Hindi cinema in the last two decades. Just done watching one of the best performances by an actress in a Hindi movie. Movie's name: Damini. She depicts the character of a woman fighting the ills of a society. It is very easy for actors to overact and go noisy while enacting such powerful characters. Be it her depiction of a truly 'bharteeya naari', a perfect daughter, a perfect wife, a perfect daughter-in-law, or be it her powerful outburst towards the end. She did it without being too vociferously preachy. Every expression depicted the real pain of a woman in misery. Nothing too dramatic. Nothing over the top.

She is the actress of highest calibre. It is really sad for Hindi cinema that such great actresses were never really in the limelight. Whereas some of today's actresses, just by depicting dimples and making faces, think that they are acting.

ABOUT HER SELF :
Birth name: Shashikala Sheshadri
Date of Birth: 13 November
Sign: Scorpio
Country: India
Father: employee of the Sindri Fertiliser
Marital status: married
Spouse: software professional Harish Mysore
Children: two children - daughter Kendra and son Sanjosh
Ex-boyfriend: she rejected directorRaj Kumar Santoshi
Other facts: Meenakshi teaches Bharatanatyam, Kathak and Odissi dance in Texas
Occupation: bollywood actress/dancer
Debut Film: Hero
Languages: hindi, English

FILMOGRAPHY :
Do Rahain, Ghatak: Lethal, Damini - Lightning, Kshatriya, Aadmi Khilona Hai, Aapathbandavudu, Humshakal, Aaj Ka Goonda Raj, Humlaa, Akayla, Brahmarishi Vishwamitra, Ghar Parivar, Amba, Awaargi, Ghar Ho To Aisa, Ghayal, Jurm, Shandaar, Aag Se Khelenge, Toofan, Joshilaay, Bade Ghar Ki Beti, Gharana, Mahaadev, Mohabbat Ka Paigham, Nache Nagin Gali Gali, Sachche Ka Bol Bala, Tere Payal Mere Geet, Shahenshah, Aurat Teri Yehi Kahani, Bees Saal Baad, Gangaa Jamunaa Saraswathi, Inteqam, Main Tere Liye, Vijay, Dacait, Awara Baap, Inaam Dus Hazaar, Muqaddar Ka Faisla, Dilwala, Abodh, Allah Rakha, Dahleez, Maa Beti, Main Balwan, Ricky, Swati, Lover Boy, Mera Ghar Mere Bachche, Meri Jung, Maha Shaktiman,Bewafai, Mahaguru, Aandhi Toofan, Mera Jawab, Paisa Yeh Paisa, Satyamev Jayate, Love Marriage, Do Gulab, Hero, Painter Babu, Ghazab

If you like this please Link Back to this article...