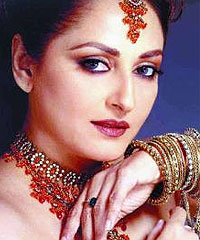 Jayaprada was born as Lalita Rani in a middle class household to Krishna and Neelavani in Rajahmundry, Andhra Pradesh on April 3, 1962. Jayaprada was a small town girl with dreams of becoming a doctor. Her mother enrolled her in dance and music classes when she was seven years old, in addition to going to a regular school. Even though, her father and uncle were film financiers, her initial break into films didn't come through them. Jayaprada was discovered dancing on stage at a school function when she was just fourteen years old. Character actor Prabhakar Reddy gave her the name of Jayaprada and introduced her in a three minute song in the Telugu film, "Bhoomi Kosam" (1976). Jayaprada was a star in that film industry before she tried the break into Bollywood.

Jayaprada's classic features, a flawless peach complexion and incredible nose coupled with a quiet aristocratic demeanor made her a favorite star of 1980s Indian Popular Cinema. Jaya Prada debuted in "Sargam", which was also her breakthrough performance opposite Rishi Kapoor.
During the 80s Jayaprada and Jeetendra had a successful on screen chemistry.

The only excitement came from her personal life when she met her husband film producer Srikant Nahata. They started out as friends as he was already a married man with children. But it turned into love when he stood by her because of her income tax problems. Jayaprada was branded the "other woman," especially since Nahata wouldn't leave his wife. So she ended up marrying him in 1986, and he has continued to be married to both women.
Jayaprada didn't forget her first love, dancing, and did a dance ballet in 2005 that won her great acclaim. Having three careers (acting, dancing, politics), and a husband, left her no time to have children of her own, even though she has expressed a desire to have children. So far, she has shown no desire to give up her three careers and in fact, stated that she'll be as hardworking and dedicated in the future as she is now.

Jayaprada has acted in seven languages: Telugu (her mother tongue), Tamil, Malayalam, Kannada, Hindi, Bengali, and Marathi.

Jayaprada said that the only autograph she has ever taken in her life has been from her inspiration, Mother Theresa.

Jayaprada entered into politics by joining Telugu Desam party. Jayaprada was nominated to be an MP in Rajyasabha by TDP party. Following differences with party Supremo N. Chandrababu Naidu, she left TDP to join Samajwadi Party and contested from Rampur parliamentary Constituency in UP during the last General election in 2004. Jayaprada won the election with the slogan line, "Andhra is my janambhoomi but Uttar Pradesh is my karmbhoomi."
Jayaprada also didn't have any major films lined up. Jayaprada also started making films playing stronger, mature roles.But Jayaprada kept up with her many social and humanitarian causes, especially related to poor women and children.

She also owns the Jaya Prada Theater in Chennai.

FILMOGRAPHY:
Deha
Tathastu
Khakee
Ghar Grihasti
Bharat Bhagya Vidhata
Devadoothan
Kohram: The Explosion
Zulm O Situm
Jeevan Yudh
Lav Kush
Maidan-E-Jung
Chauraha
Insaniyat
Vivekananda
Khal-Naaikaa
Dhartiputra
Insaniyat Ke Devta
Tyaagi
Maa
Indrajeet
Farishtay
Sapnon Ka Mandir
Thanedaar
Nyay Anyay
Aaj Ka Arjun
Souten Ki Beti
Zakhmi Zameen
Shehzaade
Jaadugar
Elaan-E-Jung
Paraya Ghar
Gharana
Hum Bhi Insaan Hain
Kaanoon Ki Awaaz
Main Tera Dushman
Ganga Tere Desh Mein
Ghar Ghar Ki Kahani
Mardon Wali Baat
Gangaa Jamunaa Saraswathi
Samsaram
Sindoor
Aulad
Muqaddar Ka Faisla
Vishwanatha Nayakudu
Aisa Pyaar Kahan
Pyaar Ke Do Pal
Muddat
Aakhree Raasta
Veta
Swarag Se Sunder
Sinhasan
Tandra Paparayudu
Sur Sangam
Haqeeqat
Pataal Bhairavi
Sanjog
Zabardast
Naya Kadam
Insaaf Kaun Karega
Haisiyat
Maqsad
Mera Faisla
Paapi Pet Ka Sawaal Hai
Sharaabi
Tohfa
Qayamat
Puli Bebbuli
Adavi Simhalu
Amarajeevi
Kavirathna Kalidas
Main Awara Hoon
Mawaali
Meghasandesam
Mundadugu
Sagara Sangamam
Baawri
Devatha
Dil-E-Nadan
Ekalavya
Kaamchor
Krishnarajunulu
Swayamvaram
47 Natkal
Agni Poolu
Ooriki Monagadu
Chandipriya
Circus Ramudu
Sreevari Muchatlu
Takkar
Ninaithale Inikkum
Rangoon Rowdy
Sargam
Shri Tirupati Venkateswara Kalyanam
Siri Siri Muvva
Adavi Ramudu
Andame Anandam
Chanakya Chandragupta
Kurukshetramu
Meethi Meethi Baatein
Anthuleni Katha
Mangalyaniki Maromudi
Shri Rajeshwari Vilas Coffee Club
Sita Kalyanam
Yamagola
Apna Desh

If you like this please Link Back to this article...